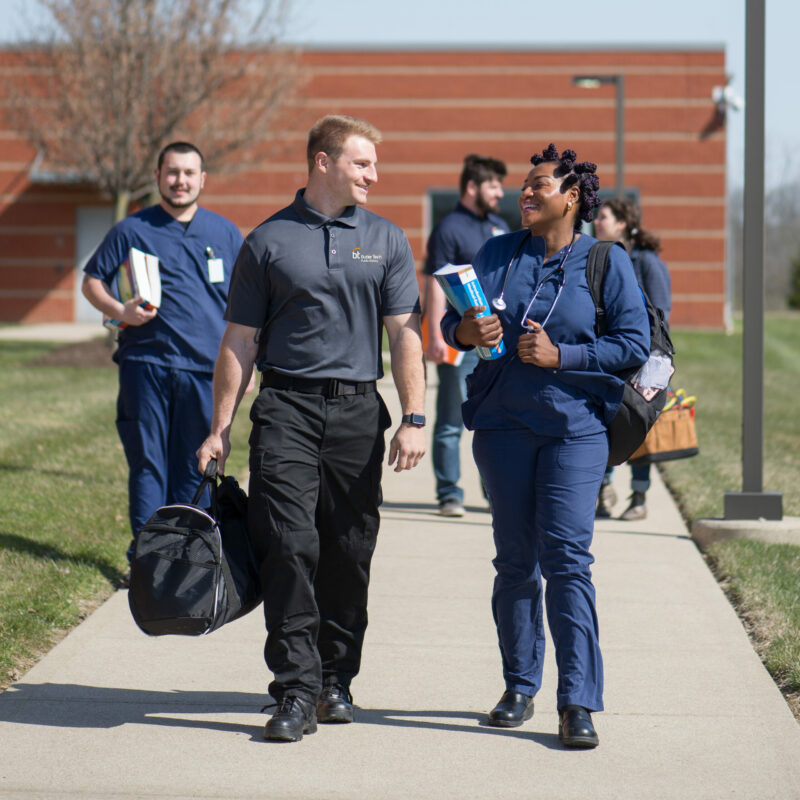 We are committed to your Success!
Welcome to the Butler Tech Family
At Butler Tech, our goal is to open doors for our students who are eager to build careers that perfectly suit their dreams, talents, and goals. We genuinely care about you and your success.
Our students are our priority. We know your name and we are here to assist you during your time with us.
BT Adult Student Information
Butler Tech Adult Education is approved and operated in cooperation with the Ohio Department of Higher Education. It is accredited by the Council on Occupational Education; 7840 Roswell Road, Building 300, Suite 325; Atlanta GA 30350.

Butler Tech's financial aid advisor can guide you through the process and answer your questions.

Make your appointment by calling 513.645.8200.

Show your school spirit with Butler Tech Spirit Wear!

Log in to your Achademix account to view your current attendance.
Frequently Asked Questions
As of August 3, 2020, all of our Adult Education campuses are operating under regular office hours as listed below.

LeSourdsville Campus Hours:

Monday-Thursday: 8:00 am – 6:30 pm

Fridays: 8:00 am – 4:00 pm

Liberty Township Campus (Public Safety Complex) Hours: 

Monday-Thursday: 8:00 am – 5:30 pm

Fridays: 8:00 am – 4:00 pm

All students and staff will be required to wear a cloth face covering that fully covers the mouth and nose. This includes homemade masks, bandanas, or other cloth face coverings. All face coverings must be school appropriate as outlined in the mask policy.
All students and staff will conduct a self-wellness check including temperature prior to coming to school. Individuals with a temperature above 100 degrees must stay home.
All students and staff who are ill must be fever free for 72 hours without the use of fever-reducing medications before returning to school.
If a student or staff member becomes aware of a confirmed positive COVID-19 case in their home, they must follow the COVID-19 Response Plan protocol. Please contact your Adult Education campus for full details.

Notice about CARES Act:

Butler Tech acknowledges that the district signed and returned the Funding Certification and Agreement for Emergency Financial Aid Grants to Students under the Coronavirus Aid, Relief, and Economic Security (CARES) Act on April 15, 2020.

Butler Tech received $292,763 in Emergency Financial Aid Grants for students.  As of 6/15/2020, $146,809.42 was distributed to students.

Eligible students completed a survey to verify need.  Funds were distributed to the eligible students who confirmed their need.

For more information, visit the CARES Act Funding for Adult Students page.

Butler Tech has Wi-Fi available for our students at the LeSourdsville Campus and Fairfield Township campus parking lots to support Butler Tech issued laptops and Chromebooks.

All Butler Tech Campus laptops and Chromebooks can connect to this network. Users will be able to download and submit assignments, browse the web and install approved software, all from the comfort of their automobile.
In order to serve as many of our students as possible, there is NO Guest Network available in these Wi-Fi Zones.
A Guest Network is available in our teacher parking lot at the LeSourdsville campus if you are using your personal technology.

I am having technical issues with my Butler Tech computer, what do I do?

Go to www.butlertech.org
Choose About Butler Tech > Butler Tech Help Desk
This will take you to the BT Helpdesk Portal
Log in using your Butler Tech Email address and Password
Click on Contact Us and complete the required information

Make sure to:

Choose the Building you normally work from
Provide a Phone Number you can be reached at
Under Department, choose Information Technology (IT)

6.  A technician will follow up to assist you as soon as possible.

Click on the wireless icon at the bottom right to view available wireless networks.
Select your network and enter the password

Right Click on the network icon at the bottom right.
Select the "Troubleshoot" option.
Let the troubleshooter run.

EveryoneOn  – Online tool you can use to locate Internet providers and other digital resources within your Zip Code.