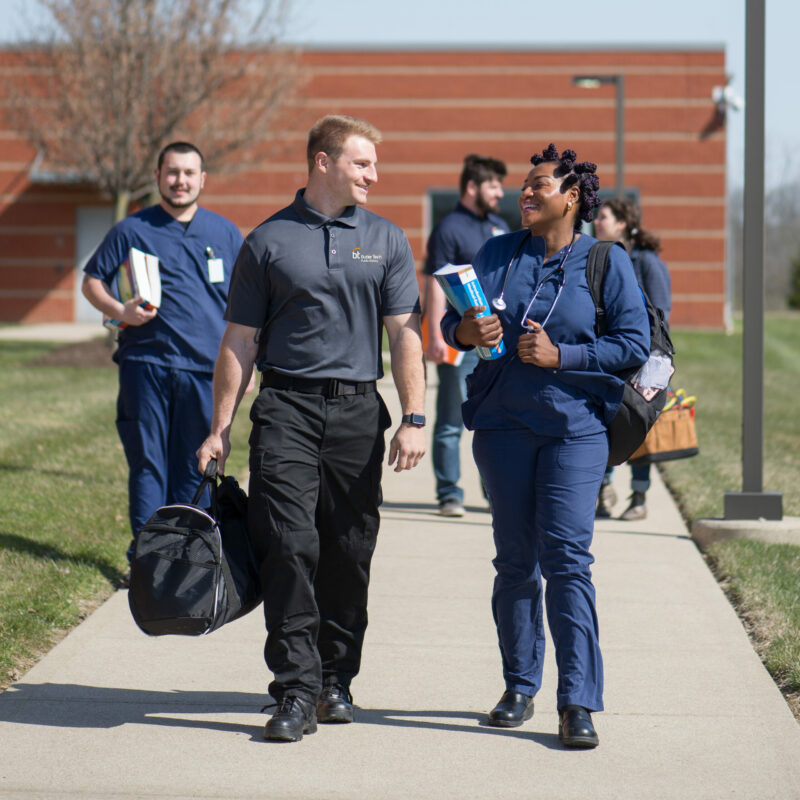 In less than one year Become Certified in a Career Field that Pays well and is in High Demand
Your Future Starts Here!
With more than forty career-focused programs, offered on two conveniently located campuses, Butler Tech Adult Education programs offer students who have a high school diploma or GED the opportunity to become certified in a career field that pays well and is in high demand.
Choose from courses that interest you and career programs that range from 2 weeks to 11 months in length. Daytime and evening classes are available for most programs plus, you can earn college credit if you decide you want to continue your education when you are finished.
Our training programs are designed to prepare you for employment and to begin a successful career, advance in your current career, and industry certification. All of our programs offer credentials and certifications that are state and/or nationally recognized. After graduation, our partnerships with area businesses allow us to help you to find the employment you're looking for when you graduate.
BT Adult Program Enrollment Information
The WorkKeys® System connects work skills, training, and testing for education and business. The WorkKeys tests are a required pre-entrance exams for all of Butler Tech's full-time programs and some additional courses.

ACT WorkKeys® is a job skills assessment system measuring "real-world" skills that employers believe are essential to job performance and success. By completing the assessments, you can earn the ACT National Career Readiness Certificate.

The assessment is comprised of three parts:

Applied Math
Workplace Documents
Graphic Literacy

Test Preparation Help

Free ACT WorkKeys® practice tests can be found on the OhioMeansJobs website.

The Aspire program offers free in person tutoring for the ACT WorkKeys® assessments. They have a variety of locations and times to accommodate your schedule. They can be contacted at 513.894.0301. Aspire Information

Ready to Schedule

When you are ready, you can schedule your WorkKeys® Assessment in three ways:

Cost

The cost of all three tests are $78. This is due at the time of scheduling. If you don't pass the first time, you can retake the needed sections one more time without having to pay. After that it's $26 for each section you need to retake.

Helpful Tips:

Register for your assessment at least three business days in advance.
There are three sections to the assessment. You can take all three in one day or choose to take them one at a time.
Each section takes about 55 minutes to complete.
You must bring a photo ID when you take the exam.
You may use a standard calculator during the exam.
Arrive 10 – 15 minutes early. If you are late, you will have to reschedule.
No family members or children are permitted in the exam room.
The test is good for 5 years.

Butler Tech Adult Education is approved and operated in cooperation with the Ohio Department of Higher Education. It is accredited by the Council on Occupational Education; 7840 Roswell Road, Building 300, Suite 325; Atlanta GA 30350.

All Ohio Adult Education programs are part of the University System of Ohio and are governed by the Ohio Department of Higher Education. As a member of the University System of Ohio's Adult Workforce Education and Training Network, Butler Tech is pleased to offer even more access to area colleges, universities and technical schools for our adult students.

Additional information about the University System of Ohio is available at ohiohighered.org.

Students must apply and be accepted to a program. All program requirements and prerequisites must be satisfied prior to starting classes.

To apply, visit the programs page to select the program you are interested in.  Select the Get Started link located at the bottom on the right. This will take you to a form to complete to begin your enrollment process. Once you have completed and submitted the form, you will receive an email with next steps. Please be sure to provide your correct email address.

Each program has unique enrollment requirements. An Enrollment Checklist for each program is included with the Get Started link.

Upcoming program start dates are updated regularly and are listed on the adult education program information page.

Class dates and location are subject to change. Students enrolled in a class that is postponed, moved, or canceled will be notified as soon as possible.

To determine what funds may be available for you, explore the below options outlined on our Financial Aid page. Be sure to fill out your FAFSA form and contact us at 513.645.8200 to schedule an appointment with our financial Aid Coordinator.

Agency Funding
CARES Act Funding for Adult Students
Federal Aid
Veterans Benefits

The pricing provided on this website represents the total program cost including, tuition, books and supplies. Pricing is subject to change. Financial aid and other funding options are available for many of our adult career training programs.

Official Withdrawal Policy

Students who wish to withdraw from a full­time program must complete the appropriate paperwork with the program coordinator or supervisor and the Student Services office.

Full Time Program Refund Policy

After the first 50% of the enrollment period: No Refund
On or before 50% of the enrollment period: 25%
On or before 25% of the enrollment period: 50%
On or before 10% of the enrollment period: 90%
On or before the first day of class: 100% (excludes $200 deposit)

The student's last recorded date of attendance is the basis for all calculations. The registration deposit specific to each program is non-­refundable.
Adult Education Full Time Program Enrollment
It's easy to get started
Just follow these steps
attend an information session

Choose from classes and career training programs that interest you.
follow the program enrollment steps

Each program has unique enrollment requirements that are reviewed during the information session.
finalize your enrollment

You are almost there! Here are the final steps to complete your enrollment.
attend an information session

Each program has unique enrollment requirements. Most full time programs require that you attend an Information session to enroll. Information sessions are free and are specific to program pathways. Some part-time programs do not require you attend a session to enroll.

During the information session, you will learn more about the program pathway you have selected and other important details about:

You will also have the opportunity to meet instructors and tour the campus.
follow the program enrollment steps

For enrollment in most Butler Tech full-time programs you will need to:

Complete your financial aid application
Call 513.645.8200 to schedule an appointment with our financial aid advisor
Complete the specific requirements for the program you are enrolling in

Each program has different enrollment requirements that will be shared during the information session.
We are here to help make the process as easy as possible. For enrollment in most Butler Tech Adult career programs you will need to:

Provide a copy of your high school transcript or GED scores
Complete and submit your Enrollment Agreement
Pay a $200 enrollment deposit that will  be credited toward your program tuition

We will provide you with guidance and answer any questions you have during the information session.
>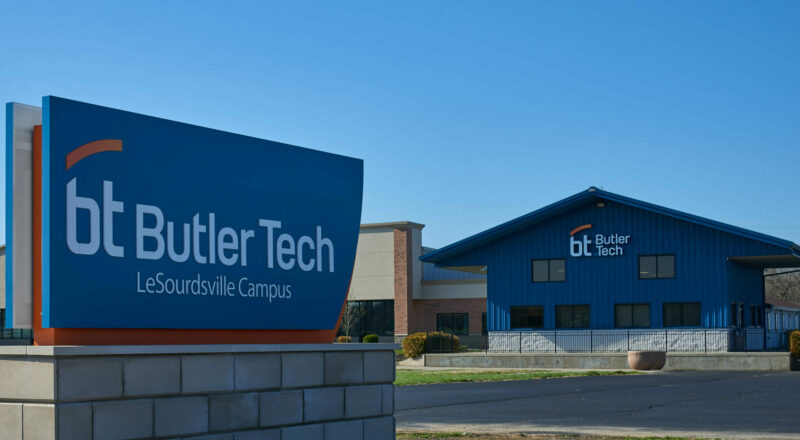 Now Enrolling for Adult Career Programs
Get Started!