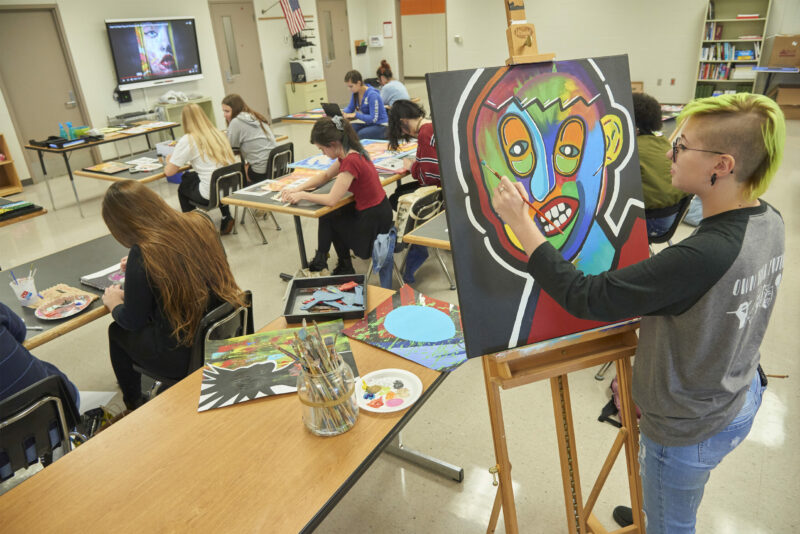 Welcome to our new students and families!
Butler Tech is one of the largest career-technical schools in Ohio. Its passionate educators are on a shared mission of transforming lives to make our students career-ready and college-prepared. Our teachers serve more than 18,000 students daily on Butler Tech's five campuses and in classrooms within our 11 associate school districts. In 2020, Butler Tech's high school graduation rate was 99%. Butler Tech also serves adult students with programs in healthcare, public safety, manufacturing, and commercial trucking.  Butler Tech provides a purpose for every passion.
BT High School Information
Butler Tech does not tolerate harassment, intimidation, bullying, or dating violence of any student on District property or at District-sponsored events. The Board's commitment to addressing such prohibited behavior involves a multifaceted approach, which includes education and the promotion of a school atmosphere in which harassment, intimidation, bullying, or dating violence will not be tolerated by students, staff, or administration.

Harassment, intimidation, or bullying means any intentional written, verbal or physical act, including those activities engaged in via computer or electronic communication devices, that a student has exhibited toward another particular student more than once and the behavior both: (1) causes mental or physical harm to the other student; and (2) is sufficiently severe, persistent or pervasive that it creates an intimidating, threatening or abusive educational environment for the other student. Dating violence means a pattern of behavior or actions where a person uses or threatens physical, sexual, verbal, or emotional abuse to control the person's dating partner, including activities engaged in via computer or electronic communication devices.

To report bullying or harassment, please complete the Bullying Incident Complaint Form. The form can be submitted to any school personnel. You are not required to include your name on the form and may submit a report anonymously.

For more information about the district's anti-bullying policy, please see Board Policy 5517.01. Once at the site, click on the Policies tab and scroll to 13 – Student Support Services.

Butler Tech Career Initiatives provides career development opportunities to Butler Tech students and to the associate school districts that we serve.

Students

Information to help students make informed education, military, and career-related decisions within the context of a global economy
Interest and skills assessments using OhioMeansJobs.com and other resources
Career advising to students in grades K-12, which includes age-appropriate activities and grade-level examples that link students' schoolwork to one or more career fields.
Job shadow and apprenticeship experiences
Mobile lab providing comprehensive, individualized, hands-on career assessment to students in associate schools
Resources for students to obtain up-to-date career and labor market information
Resources for students to obtain current post-secondary information and training options
Resources and support for developing soft skills and resumes
Maintain and run the eighth grade Butler Tech Career Lab, an onsite career assessment lab and tour

Teachers, School Counselors, Administrators

Professional development opportunities
Curriculum integration support
Instructional help in the classroom
Training and access to career-related information and events

Parents

Access to career-related information

Business, Industry, Community

Opportunities to be involved in career development activities and to be seen as a vital classroom resource
Employees who have both technical skills and 21st Century Skills

CLICK HERE for Butler Tech's Career Advising Policy on BoardDocs

Ohio's College Credit Plus (CCP) program can help you earn college and high school credits at the same time by taking college courses while you are a student at Butler Tech. Taking a college course from a public college or university is free with the College Credit Plus program.

Butler Tech has partnered with Cincinnati State and Sinclair Community College and Hocking College for this program. However, you can also take courses at other Ohio colleges and universities that participate in the College Credit Plus program.

View or download the Butler Tech College Credit Plus Guidebook.

Watch the information counseling session video & complete the CCP Intent form

Participating in the informational counseling session and expressing your interest in participating in CCP classes by providing us with your information is a required step in the process.  Butler Tech school counselors will reach out to students who have expressed interest in participating or who have requested additional information.

Counseling Session Information

Other Post-Secondary Credit Options for Butler Tech Students

CTAG (Career-Technical Assurance Guide)

Courses that are CTAG certified for dual credit can be transferred to any public college or university in the state of Ohio. If you take these credits to any public institution in Ohio, you will receive credit within that major for that course.

Articulated Credit

Articulated credit comes through an agreement with an area college or colleges. If you successfully complete the coursework on our campus, when you enroll in that college, the college will grant credit for that course. Some programs may have many articulation agreements. This means that if you have articulated credit from that program, you could receive credit from any one of the colleges with whom we have agreements. For more information, talk with your instructor or school counselor.

Proficiency Credit

Proficiency credit comes from an agreement with an area college. Credit is earned from successfully completing the coursework on your campus and an assessment set by the college. For more information, talk with your instructor or school counselor.

AP (Advanced Placement) Courses

Another way to earn college credit is through successful completion of an AP course at Butler Tech. If you score a 3, 4 or 5 on an AP exam, the college you attend is likely to give you credit for that AP course. For more information, talk with your instructor or school counselor.

School meals are available to all students. Households may apply for free or reduced-price meal benefits starting 8/8/2023. Eligibility for free and reduced-price lunch is based on federal income guidelines or participation in other programs such as Supplemental Nutrition Assistance Program and Ohio Works First. For additional information concerning the National School Lunch Program, please see the U.S. Department of Agriculture's Fact Sheet (Fact Sheet Spanish).

Click here to see the à la carte menu

Click here for the "Make it a Breakfast" guidelines

Click here for the "Make it a Lunch" guidelines 

For questions or additional information please contact Jeffery Harrison at 513-645-8316 or @ JHarrison@AVIFoodsystems.com.   

No student is allowed to leave school premises during the lunch period without specific written permission from the Principal.   No fast food items are permitted to be dropped off during school hours.

Students that may be eligible for free or reduced lunches are encouraged to complete an application.  An application for free and reduced lunches can be filed through the PaySchools Central portal.

Free/Reduced Meal Application

You can now complete your Free/Reduced meal application from the PaySchools Central portal!

Click here to complete the Free/Reduced Application

Click here to view the Public Information Release Form

Register for an Account

From the PaySchoolsCentral home screen, click Register
After you complete the registration form, you will receive an email to complete the confirmation process.
Add your student or students. You will need their nine-digit ID and their legal first and last names.
Once you have your PaySchools Central account set up, you can begin your application. You will have two ways to access the application:

Once signed on, you will see a popup with an option to complete your application.
Or you can always access the application from the menu options.

Download Registration Instructions

PaySchools Central QuikApps Guide

When you enroll at Butler Tech, you remain a student of your home high school. That means you will graduate from your home high school and receive the same diploma as other graduates. The transcript of your high school record will be maintained by your home school district.

Butler Tech holds a senior ceremony for graduates at the end of the school year. Students will receive a certificate for their career training program, as well as recognition for honors earned during the course of your study.

Future Focus

Though we do not expect that all of our students will enter Butler Tech with a clear college or future plan, we do expect that most of our students will leave us with one!

College or Career Technical Education

We have full-time college counselors who work with students on the application process, including support around the financial aid application process and exploring college options. If you have not yet thought about college as an option, that's fine — we are here to help you identify which path is best for you and to support you in your efforts to follow that path!

There are many rewarding careers that do not require a college degree. Butler Tech Adult Education offers many programs to help students earn industry credentials after high school.

Entering the Workforce

The skills learned in many of our programs allow students to enter the workforce with industry credentials right out of high school. You can work in a field you love without having to wait. Some students also use the skills they've acquired to earn better pay while pursuing additional education.

The Ohio Senate recently approved legislation requires that, if parents have not notified the school of their child's absence, the school must contact the parent(s) within two hours of the start of school. To meet the timelines of this legislation, Butler Tech would like to make you aware of how this will impact the absences call(s) you will receive.

Beginning February 1st, parents will receive an automated phone call that their child is absent, unexcused, under the following conditions:

The parent(s) of Butler Tech campus students did not report their child's absence to the campus attendance secretary by 9:00 am.
If the Butler Tech campus student arrives at their campus at 9:00 am or later. Later in the day, you will also receive a second call indicating that your child was tardy, unexcused, to school.

Please remember that any time a student is not in school during the school year will require a parent to report their child's absence and the reason(s) for the absence. This should be done on the morning of the absence, before 9:00 am, via a telephone call or email to the campus attendance secretary. If this is not possible, parents should notify the school of the absence the day following via a written note.

Additionally, students with excessive unexcused will be deemed "habitual truant" under existing law, which will require the district to follow several administrative procedures and legal solutions to ensure the student attends school regularly.

If you have any questions or need additional information concerning your child's attendance, please call the attendance secretary at your child's school at 513-868-6300 or visit www.butlertech.org.

Ohio high school students now can earn recognition by showing they are prepared to contribute to the workplace and their communities. The OhioMeansJobs-Readiness Seal is formal designation students can earn on their high school diplomas and transcripts indicating they have the personal strengths, strong work ethic and professional experience that businesses need.

To earn the OhioMeansJobs-Readiness Seal, motivated high school students must demonstrate certain professional skills required for success in the workplace. Students work with at least three experienced and trusted mentors who validate the demonstration of these skills in school, work or the community.

The OhioMeansJobs-Readiness Seal is available for the graduating classes of 2018 and beyond and will be printed directly on Ohio diplomas and transcripts.

Students interested in pursuing an OhioMeansJobs-Readiness Seal should talk to their career technical teacher and counselor and refer to the guidelines and resources on the Ohio Department of Education website.  Students are responsible for securing and managing the completion of the Student OhioMeansJobs-Readiness Seal Validation form, Part 1-Professional Skills Verification).  This completed form must be submitted to your school counselor no later than Monday, April 1st, 2022.

Ohio Department of Education OhioMeansJobs-Readiness Seal Guidelines and Resources

You can now pay high school student fees online! We accept credit cards and ACH checks through our online payment portal.

Register for an Account

From the PaySchoolsCentral home screen, click Register.
After you complete the registration form, you will receive an email to complete the confirmation process.
Add your student or students. You will need their nine-digit ID and their legal first and last names.

Download Registration Instructions

Paying Fees

After adding your student, they will appear as an icon at the top of the screen. Click the icon to see the fees associated with them. Click each fee to add them to your cart. When you are ready, click Checkout.

Some fees may appear on your statement that do not apply, such as a Parking Pass Fee. If this fee does not apply, please do not add it to your cart.

Project Lead The Way provides transformative learning experiences for K-12 students and teachers across the U.S. We create an engaging, hands-on classroom environment and empower students to develop in-demand knowledge and skills they need to thrive. We also provide teachers with the training, resources, and support they need to engage students in real-world learning.

ProgressBook is an integrated student information and learning management platform. Connecting administration, the classroom, and home, ProgressBook has the simplicity and efficiency to manage a student's academic lifecycle, from registration through graduation.

To register as a parent, you will need an access code from your child's school.

Butler Tech offers summer school credit recovery and initial courses to students who currently attend a campus program or students who have been accepted to one of our campuses for the upcoming school year (courses are not open to students who only attend Butler Tech programs in our associate schools).  *Summer School courses are not NCAA-approved.

Summer School will run from 8:00 am – 1:00 pm, daily beginning Tuesday, June 13th to Friday, July 14th, 2023.

Student Ambassadors are among the most energetic, involved, and passionate students at Butler Tech! They exemplify the very best of what Butler Tech has to offer by confidently representing their program, campus, and career technical education.

Although each member of the Butler Tech Student Ambassadors is unique in their passion, purpose, interests, and background they all share one common thread – pride and enthusiasm for Butler Tech.

Butler Tech Student Ambassadors play a crucial role in sharing their career tech experience with potential students, families, home school staff, community leaders, and elected officials. Through campus tours, special events, and genuine conversations, Student Ambassadors are one of the most trusted sources to provide student voice of the passion, purpose, and impact of Butler Tech.

To learn more about the Student Ambassadors and how to apply visit: https://www.butlertech.org/student-ambassadors/
Frequently Asked Questions
Yes, transportation will be provided by the home schools to and from Butler Tech regardless of the individual district schedule or plan for the school year. They will provide transportation five days a week as needed. Please contact your home school for schedule and location information.

Yes, a parking pass is required. The cost of a campus parking pass for the 2023-2024 school year is $50. You must complete and submit the forms below to your campus secretary to receive your parking pass.

2023-2024 Butler Tech Parking Pass Application 

Email questions@butlertech.org – be sure to include your student's full name, grade, program, and the email or phone number you would like added or changed.