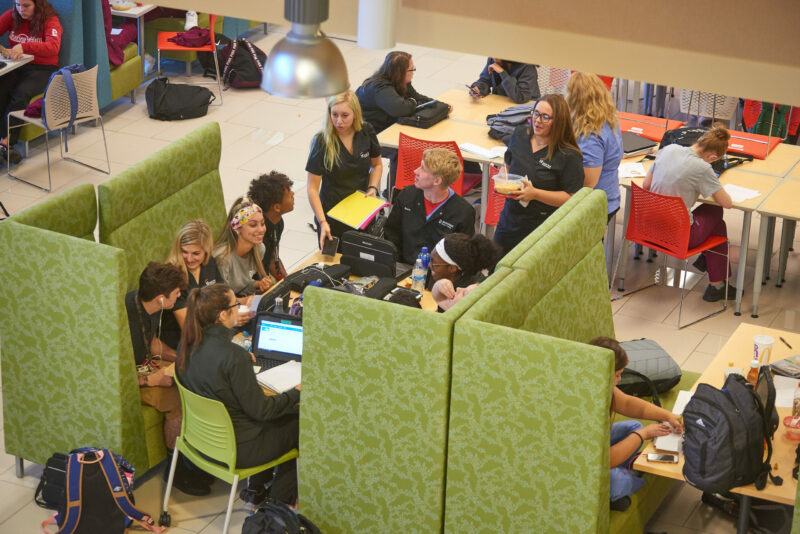 Butler Tech is the college experience before college.
It gives you the chance to attend high school on a new campus, make new friends, focus on a major area of study, and earn college credit – just like you would at a college or university.
The biggest difference is cost. Earning college credit at Butler Tech is free of charge. You can earn enough of it to put you much further ahead than others entering college who didn't attend a high school like Butler Tech. That means you'll be paying a lot less for your degree. Many of our students also earn scholarships, putting an even bigger dent in the cost of college.
Best of all, when you come to Butler Tech, you're still close to home and connected to your home high school for sports, clubs, and other extracurricular activities.
And if you're more focused on career training than college right now, Butler Tech can help with that, too. We've been helping students follow their passions and prepare for the workforce for more than 40 years.
BT High School Information
Your laptop computer

If you are a full-time student on one of Butler Tech's high school campuses, you will receive a laptop computer when you begin your program. It will be yours to use for the entire time you are in the program, and in most cases, it will belong to you after you complete your program at Butler Tech.

About the computer

Your computer is a fully functioning laptop that uses the Microsoft Windows operating system. All computers will have Microsoft Office 365 (Word, Excel, PowerPoint, etc.) installed, along with the specialized software you will need for your educational program.

Most courses will use the Schoology Learning Management System for school messages, homework assignments, calendars, schedules, tutorials, etc. Computers also will have wireless and wired Internet access.

It's yours when you graduate

When you complete the program you will take ownership of the laptop free of charge if you meet these requirements:

Meet or exceed all graduation requirements
Complete your Career Technical Program
95% attendance rate during the final year of the program
Once in the program, not suspended or expelled from the program

If you qualify to keep your computer free of charge, you will turn it back into the district to be refurbished to its original condition, and it will be returned to you.

All students who attend Butler Tech will need to meet graduation requirements set by the State of Ohio. So, along with your career technical training, you will take traditional academic classes such as English, math, science and social studies. These classes will enhance both career and college opportunities.

All of the courses at Butler Tech are at the college prep level. We also offer advanced courses and AP courses, and some foreign language courses. Students also have multiple ways to earn college credit at Butler Tech.

Our high-performing students are eligible to join the National Technical Honor Society. It has the same high standards, testing and GPA requirements of the National Honor Society in your home school – but designed especially for technical career centers.

We work to individualize our academic program to meet each student's needs. If you need a course that is available only online, we will look for ways to make that work. What's different about Butler Tech's academic courses is that our instructors tie academic courses to your chosen career path, allowing you to see the practical application of what you've learned.

For students who arrive at Butler Tech lacking required credits, we will create an intervention plan to recover those credits and help the student gain those missing skills.

If students come with an Individualized Education Plan (IEP) from a previous school, we have experts to help them as well. Butler Tech has intervention specialists and vocational special educators to support any child with special needs.

Application information for 2022-2023 school year: coming soon.

College Credit Plus

Ohio's College Credit Plus (CCP) program can help you earn college and high school credits at the same time by taking college courses while you are a student at Butler Tech. Taking a college course from a public college or university is free with the College Credit Plus program.

Butler Tech has partnered with Cincinnati State and Sinclair Community College and Hocking College for this program. However, you can also take courses at other Ohio colleges and universities that participate in the College Credit Plus program.

View or download the Butler Tech College Credit Plus Guidebook.

Watch the information counseling session video & complete the CCP Intent form

Participating in the informational counseling session and expressing your interest in participating in CCP classes by providing us with your information is a required step in the process.  Butler Tech school counselors will reach out to students who have expressed interest in participating or who have requested additional information.

Counseling Session Information

Other Post-Secondary Credit Options for Butler Tech Students

CTAG (Career-Technical Assurance Guide)

Courses that are CTAG certified for dual credit can be transferred to any public college or university in the state of Ohio. If you take these credits to any public institution in Ohio, you will receive credit within that major for that course.

Articulated Credit

Articulated credit comes through an agreement with an area college or colleges. If you successfully complete the coursework on our campus, when you enroll in that college, the college will grant credit for that course. Some programs may have many articulation agreements. This means that if you have articulated credit from that program, you could receive credit from any one of the colleges with whom we have agreements. For more information, talk with your instructor or school counselor.

Proficiency Credit

Proficiency credit comes from an agreement with an area college. Credit is earned from successfully completing the coursework on your campus and an assessment set by the college. For more information, talk with your instructor or school counselor.

AP (Advanced Placement) Courses

Another way to earn college credit is through successful completion of an AP course at Butler Tech. If you score a 3, 4 or 5 on an AP exam, the college you attend is likely to give you credit for that AP course. For more information, talk with your instructor or school counselor.

When you enroll at Butler Tech, you remain a student of your home high school. That means you will graduate from your home high school and receive the same diploma as other graduates. The transcript of your high school record will be maintained by your home school district.

Butler Tech holds a senior ceremony for graduates at the end of the school year. Students will receive a certificate for their career training program, as well as recognition for honors earned during the course of your study.

Future Focus

Though we do not expect that all of our students will enter Butler Tech with a clear college or future plan, we do expect that most of our students will leave us with one!

College or Career Technical Education

We have full-time college counselors who work with students on the application process, including support around the financial aid application process and exploring college options. If you have not yet thought about college as an option, that's fine — we are here to help you identify which path is best for you and to support you in your efforts to follow that path!

There are many rewarding careers that do not require a college degree. Butler Tech Adult Education offers many programs to help students earn industry credentials after high school.

Entering the Workforce

The skills learned in many of our programs allow students to enter the workforce with industry credentials right out of high school. You can work in a field you love without having to wait. Some students also use the skills they've acquired to earn better pay while pursuing additional education.

Butler Tech offers summer school credit recovery and initial courses to students who currently attend a campus program or students who have been accepted to one of our campuses for the upcoming school year (courses are not open to students who only attend Butler Tech programs in our associate schools).  *Summer School courses are not NCAA-approved.

Summer School will run from 8:00 am – 1:00 pm, daily beginning Wednesday, June 16th to Friday, July 9th, 2021.
2021-2022 Supply Lists
English:

College Prep English 11 and 12: 1"  binder, notebook paper, daily writing utensil
Advanced English: Writer's composition notebook, 1″ binder, highlighters, daily writing utensil, ink pens (a color other than blue, black or red), Google Drive account, box of tissues (extra credit item), hand sanitizer (extra credit item)
CCP English: Writer's composition notebook, 1″ binder, highlighters, daily writing utensil, ink pens (a color other than blue, black or red), Google Drive account, box of tissues (extra credit item), hand sanitizer (extra credit item)
Speech: 1" binder, notebook paper, daily writing utensil
Auto Tech English: 1"  binder, notebook paper, daily writing utensil

Math:

Math for Tech: 1″ binder, pencils, highlighters, Texas Instruments TI30 Calculator
Algebra II: 1-1 1/2″ binder, pencils, highlighters, Texas instruments TI 83/84 graphing calculator
Precalculus:  1-1 1/2″ binder, pencils, highlighters, Texas instruments TI 83/84 graphing calculator
CCP Classes: Pencils, notebook
Geometry: 1″ binder, pencils, Texas Instruments TI30 Calculator, dividers, highlighters, loose-leaf paper
Financial Algebra: 1″ binder, pencils, Texas Instruments TI30 Calculator (scientific), loose-leaf paper, highlighters

Bioscience Center Specific Courses:

Medical Math: 1-1 1/2″ binder, loose-leaf paper, pencils, pens, highlighters, Texas Instruments TI30 Calculator (no graphing calculators are permitted in this course.)
Algebra II/Statistics/Pre-Calculus: 1-1 1/2″ binder with filler paper OR a 5-subject notebook and a folder, pencils, pens, highlighters, Texas instruments TI 30 calculator or higher (graphing calculators are welcomed but not required.)

Science:

Physics: 1" binder, 1 pack of pencils, 1 pack of colored pencils, Texas Instruments TI30 Calculator (scientific)
Chemistry: 1" or larger binder, 1 folder, 1 pack of pencils, 1 pack of colored pencils, 1 one subject notebook, Texas Instruments TI30 Calculator (scientific)
Biology: 1" or larger binder, 1 folder, 1 pack of pencils, 1 pack of colored pencils, 1 one subject notebook
A&P: 1" binder, 1 pack of pencils, 1 pack of colored pencils, a small pack of nitrile disposable gloves
Environmental Science: 1" binder, 1 pack of pencils, 1 pack of colored pencils

Toolbox 4 drawer or bigger (one larger drawer) (chest type toolbox with lift out tray will work)
Safety Glasses (clear) *
Face shield (clear)
3M respirator (must be NIOSH approved) *
Body hammer (finishing and pick) *
Universal body dolly or general purpose dolly *
¼ inch and/or 3/8 inch drive socket set metric and standard (including deep and shallow)
Standard open/boxed end combination wrench set (3/8"-7/8")
Metric open/boxed end combination wrench set (6mm-19mm)
Phillips screwdriver set (including a #2 Phillips posi-drive)
Straight tip screwdriver set
6-inch Adjustable wrench
6-inch needle nose pliers (with cutter)
5-inch sanding block (approx  2 ¾" x 5" *
 Longboard hand sanding board (approx 2 ¾" x 17" *
2 flex sanding blocks *
Rubber squeegee
Cheese grater (half round)
Torx set (up to T50)
ASE Allen wrench set (foldable)
Metric Allen wrench set (foldable)
12 foot Tape measure (metric and inch on one tape

OPTIONAL TOOLS

3-inch air angle grander
5-inch air grander
Double action air sand (DA)
½ inch drive socket kit
18-inch body pick
Impact wrench
Vice grips
3/8 inch drill 18V -20V

Socket Sets

1/2" drive socket/ratchet set – standard 7/16″ to 1 1/8″, 12-24 mm metric sockets
3/8″ drive socket/ratchet set – 1/4″ – 3/4″ standard, metric – 10mm to 19mm 13/16″ & 5/8″ spark plug sockets
1/4″ drive socket/ratchet set 3/16″ – 1/2″ standard sockets 4-14 mm metric sockets Don't forget breaker bar and extensions where applicable

Pliers

7″ – 8″ needle nose
9 1/4″ water pump (channel lock)
7″ – 8″ diagonal
10″ vise grip
7.5″ slip joint

Screwdrivers

Standard screwdriver set (tip width – shank length) – 1/4 x 3-1/4″, 5/16 x 10-1/4″, 7/32 x 6-1/8″, 3/8 x 12-3/4″, 1/4 x 8″
Phillips screwdriver set (shank length) – 3-1/4″ #2, 6-1/4″ #1, 8″ #2
Posi-drive screwdriver set (shank length – tip size) – 3 – 1/4″ #2, 6-1/4″ #1, 8″ #2
Torx bits/drivers – T27 – 55, 3/8″ drive sockets, 10 – 27 screwdriver style
Chisel and punch set – pin & starter punch, flat chisel, pry bar, 3/32″, 5/32″, 3/16″, 1/4″, 5/16″, 5-1/2″, 6″, 6-1/2″, 5″ center punch, 24″

Wrench Sets

3/8″ – 7/8″ combination, standard 10 -22 mm
10mm- 14mm line, metric line wrenches

Miscellaneous Tools

Allen Wrench Set (L-type) – 1/16″ to 3/8″ hex
Feeler Gauge – .0015″ to .080″
Wire Gauge – .035″ to .080″
Scraper – 1-1/2″ x 3-3/8″ heavy duty
Wire stripper – 6″ 10-20 gauge
Test light
Steel ruler 6″ pocket
Hacksaw with following blades 4-18 TPS, and 4-24 TPI
Flat hand file with handle 10″ mill
Flashlight with batteries
Magnetic pick-up tool
Steel measuring tape 12′
Safety glasses (not goggles)
Tire pressure gauge
16 Ounce ball peen hammer

Your instructor and the automotive repair technology program's advisory committee stress the purchase of tools is a must in seeking employment in the automotive field. You cannot be hired without them. The tool list has been compiled with costs in mind.  This is a minimum requirement for an entry-level technician.

Please engrave your tools to prevent them from being lost or stolen.

A toolbox suitable to house all the tools is also necessary.

Check with the instructor for school supply needs

Work boots
Florescent colored t-shirts
Work pants
22-inch tool box
Combination padlock
20 oz. fiberglass rip claw hammer
25 ft. tape measure
Speed square
Retractable utility knife
15″ carpenter's saw
6-in-1 screwdriver
2-pack brass stair gauge
Metal chalk reel with 4 oz. blue chalk
Straight cut steel snips
Construction tool apron
2 ended nail puller
Work gloves

Sports Physical

All students must have a medical sports physical prior to the first day of class. The forms can be found on the Ohio High School Athletic Association website under the Sports Medicine tab and then under the "Pre-Participation Physical Exam Form" at ohsaa.org
Choose the appropriate year and print out the forms and give to the physician to complete. All forms should be turned in to Commander Fitzgerald the first day of School.

All returning seniors will have to get new physical exams as well

Uniforms  The dress code for the first day of school is polo shirt, tactical pants and boots. Per the vendor Boss Awards, the uniforms will need to be ordered before July 6th to guarantee delivery before the first day of school. I also recommend you place your with order with Galls sooner rather than later because their shipping and delivery is often delayed. Just FYI in previous years, female students have stated that the men's tactical pants fit better.

Incoming juniors are required to purchase the following items
Black Tactical Pants x 2
Short Sleeve Polo shirts x 2
Tactical Belt (black)
T-shirt x 2
Black "police style" boots (1 pair)
¼ zip pullover
The t-shirts, polos, and ¼ zip must be purchased from Boss Awards. Click on the store's tab on their website and then Butler Tech CJ (Hamilton) and items can be ordered online. There will be links on the Boss Awards website that direct you to the tactical pants, belts, and boots. https://boss-awards.com/
You may purchase as many items as you want, these listed are the minimum amounts

Schools Supplies

Spiral-bound notebooks
Loose-leaf paper
Pencils
Ink pens (black ink)
1 folder
Additional items such as poster board or tri-folds will need to be purchased if needed for projects and assignments

Chefs' uniform (jacket, pants, skull cap) – Students will receive a package deal through our approved vendor. Call 513-874-3700 and tell them you are in the Butler Tech Culinary Program.
Non-slip shoes
Digital or Analog Thermometer
ServSafe Managers Course Book (This will be purchased as a group)
Culinary Knife Kit (Recommended but not required)

Pink ballet shoes (canvas or leather) for females
Black ballet shoes (canvas or leather) for males

Bioscience Center Campus Supply List for 2021-2022 coming soon.

Program-specific supplies:

Hepatitis B vaccination required
COVID-19 Vaccine MAY be required for off-site clinical experiences
Scrub pant, top, and lab jacket – vendor information will be provided by the instructor
Athletic shoes in black, grey or white

Over-the-ear headphones
16 GB flash drive
Notebooks, folders, etc.

Riding pants – jeans, breeches, appropriate riding pants
Western or English style riding boots
Riding helmet (ASTM/SEI approved)
Riding shirt

Suggested Vendors

Cox Saddlery: 1421 Boyle Road, Hamilton, Ohio 45013 (513) 867-8699
TSC: Various locations throughout Butler and Hamilton Counties (consult Google for help)
Rural King: 1416 Hamilton Richmond Road, Hamilton, Ohio 45013 (513) 737-0436
Liberty Western: 727 Cincinnati Avenue, Lebanon, Ohio (513) 933-0900

Bioscience Center Campus Supply List for 2021-2022 coming soon.

Program-specific supplies:

Vaccinations required: Flu, TB (2-step), and Hepatitis B,
COVID-19 Vaccine MAY be required for off-site clinical experiences
Khaki pants
Clinical polo's (vendor information will be provided by the instructor)
T-shirts(short & long sleeve)
Sweatshirt
Jacket
Shorts
Sweatpants
Gym shoes

Vaccinations required: TB (2-step) and Hepatitis B
Tactical uniform pants – Uniform information can be found at www.boss-awards.com
Black uniform belt
Safety toe boots
T-shirts
Polos
Pull-over jacket
Physical training attire
Gym shoes
1GB flash drive
Fundamentals of Fire Fighter Skills Fourth Edition textbook can be purchased by the student IF you wish to keep the textbook after completing the course. Find more information at Jones & Bartlett Learning.

Pen Pigma Micron-Sepia
Sketch pads
Portfolio case

Bioscience Center Campus Supply List for 2021-2022 coming soon.

Program-specific supplies:

Incoming juniors are required to purchase from Robert's Medical Uniforms

Vaccinations required: Flu, TB (2-step), Hepatitis B
COVID-19 Vaccine MAY be required for off-site clinical experiences
1 solid scrub top with the Butler Tech logo for clinicals (Cherokee brand – light gray)
2 pairs of scrub pants (Cherokee brand – black)
1 snap front scrub jacket with Butler Tech logo (Cherokee brand – black)
Fleece jacket with Butler Tech logo and customized with first and last name – (Port Authority brand – black)
White or black all leather or leather type shoe that is considered professional footwear or a walking type shoe (no Tom's/ Croc's etc.)
Print scrub tops may be worn throughout the week with black scrub pants (can be purchased anywhere)
Most students will require 2 additional pairs of black scrub pants (can be purchased anywhere)

Mini-PC Repair Kit (i.e. Lowes, Home Depot, Harbor Freight, Microcenter, and/or
Amazon)
-OR Create your own kit using the following:

1) Nutdrivers (2); 3/16", ¼"
2) Small parts container
3) Small flashlight
4) RJ45/RJ11 crimper tool
5) Coax – Curved wire cutters
6) Pliers (2) diagonal cutters, 4 ½"; Long Nose, 5"
7) Screwdriver, Phillips (2); #1, #2
8) Screwdriver, Slotted (2); 1/8", 3/16"
9) Torx drivers (2); T10, T15
10) Voltmeter
11) Soldering iron, holder, and 60/40 rosin core solder
12) Safety Glasses
13) Zipper case tool holder

Check with the instructor for school supply needs

Steel-toed boots
Leather gloves
Warm outerwear (insulated overalls)
Work pants
T-shirts and/or collared work shirt
Hooded Sweatshirt
Calculator
Bypass pruners – Felco or Corona brand is appropriate
Pruner sheath or holder

Check with the instructor for school supply needs

Bioscience Center Campus Supply List for 2021-2022 coming soon.

Program-specific supplies:

Vaccinations required: Flu, TB (2-step), Hepatitis B
COVID-19 Vaccine MAY be required for off-site clinical experiences
"Surviving the Extremes" by Ken Kalmer (book)
General supplies: filler paper, pencils, pens, colored pencils, ruler, binder or folder, a container of disinfectant wipes (tissues and paper towels are always appreciated)
Khaki pants
Polo (vendor information will be provided by the instructor)
T-shirts
Jacket
Sweatshirt
Leather shoes (black, brown, or white)
Lab coat

Click here to download: Precision Machining Supply List

0-3 micrometer set
6-inch dial calipers
25-foot tape measurer
20-ounce dead blow hammer
Edge finder
6-inch steel scale 4r
Center thread gage 60 degrees
10-inch adjustable wrench
Hex key set
English and metric up to 3/8 + 10 mm
Center punch
Safety glasses Z87
2-3 drawer toolbox
2 Dickies, short-sleeve work shirts (charcoal)

Black clothing for the theatre
General school supplies

Scrub pants or jeans (without holes)
Scrub top or t-shirts
Sweatshirts
Closed-toe shoes: tennis shoes or boots
Helpful supplies: flash drive, calculator, binder, dividers, highlighters, colored pencils, lint roller

Pencils
Art Erasers
Sketchbook
Apron or smock
Earbuds or headphones

Earbuds
General school supplies

Note: On the tool list there are (7) different size welding coats, and (2) sizes of mig / tig gloves. Students only need to order one of each.

Students may purchase generic tools OR utilize the following vendor: Airgas 11300 Mosteller Rd. Cincinnati, Ohio 45241 513-563-9400, ATTN: Mike Hanna