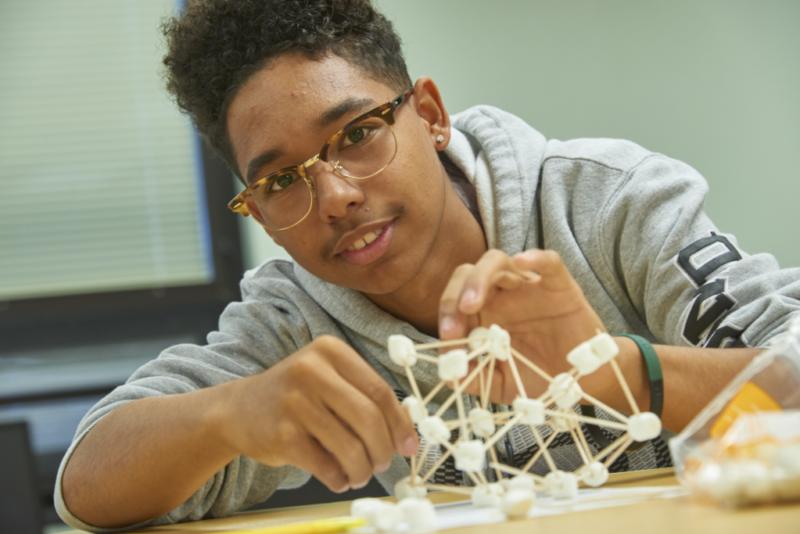 It can often feel like the pressure is on for 10th grade students. The second year of high school is when the countdown to college or career truly begins. It is a critical time to identify interests and get a head start on plans for the future. Many sophomores struggle to figure out what they want to do and how to get there.
In 10th Grade Academy, transform your sophomore year into a fact-finding mission about you, your passions and your purpose. Spend this key year exploring a wide variety of career paths to find your fit. Collaborate in daily, hands-on labs which build a bridge between core academics and real-world experiences.
Jump start your future with Butler Tech!
Butler Tech's unique 10th Grade Academy offers new opportunities and experiences for personal growth and career exploration. Whether you decide to return to your home school or transition to a Butler Tech program of your choice, complete sophomore year with increased:
Independence
Confidence
Focus
Passion and purpose
Motivation for college or career
Students enrolled in 10th Grade Academy receive personalized guidance to focus on the future they desire. Sophomores have the opportunity to focus one of the following pathways:
Career Exploration Pathway:
• Research Butler Tech's college and career pathways
• Job shadow in a career field of interest
• Identify strengths and build on weaknesses
• Explore problem-solving while exploring labs, worksites and career training
• Interact with licensed and experienced professionals
Pre-Engineering Pathway:
• Research and prepare to pursue a degree or career in the engineering field
• Apply engineering standards through hands-on projects
• Develop problem-solving skills while exploring mechanisms, energy, statics, materials and kinematics.
• Apply knowledge of research and design to create solutions for various challenges
This is a full-time program offered during a student's sophomore year. Students will apply their freshman year.