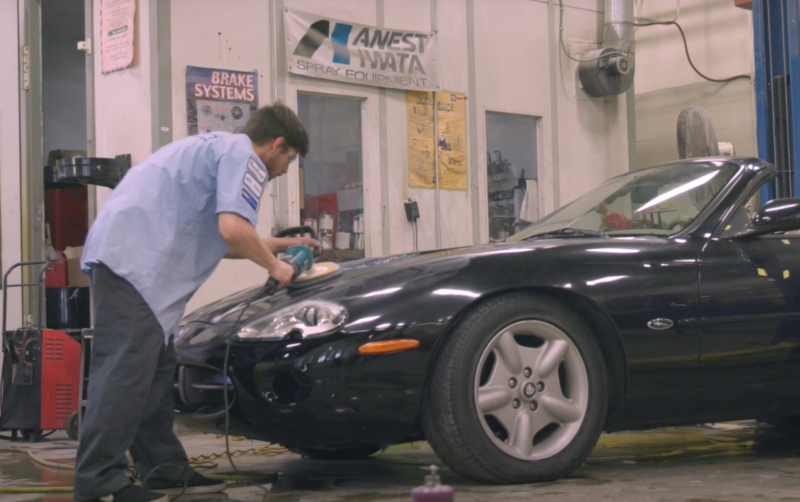 Do you find it easy to understand how the different parts of a car are built and have an interest in how a car body is put together? If so, a career in Auto Collision may be for you!
Students in this program will learn to straighten, repair, align and restore auto body components to their original shape and dimensions as well as estimate the cost of repairs. Duties may include parts replacement, straightening damaged body panels, welding, auto glass replacement, auto frame straightening, damage analysis, estimating repair costs, and refinishing damage. Butler Tech Auto Collision Technology provides students with the knowledge and skills needed for careers in automotive dealerships and independent collision repair shops.
Eventually, our students will have the ability to start their own business, work as adjusters for insurance companies, become factory representatives for industry suppliers or continue their education at a two­ or four ­year college.
Program Costs
SkillsUSA Fee:  $25
Tools (approximate): $100
Career Outlook
After graduation, career opportunities include:
Accessory installer
Aircraft structural repair & refinish technician
Auto claims adjuster
Auto damage appraiser
Auto detailer technician
Auto glass installer
Auto repair and maintenance
Coating and spraying machine operator
Collision repair technician
Estimator
Examiner
Fabricator
Parts specialist and auto parts sales
Refinish technician
Restoration technician
Welding and metal worker
Experienced technicians may start their own businesses, work as adjusters for insurance companies or become factory representatives for industry suppliers.
Industry Overview
The automotive industry seeks skilled and dependable workers
with an attention to detail and ability to work independently.
Auto Collision Technology professionals are critical thinkers, driven
by hands-on work and pride in a finished product. Zoom into a career
that is full of opportunities with great earning potential, especially
with national certifications and an associate degree.
Course Work
• Sheet metal and plastic repairs
• Body fillers
• Replacement and alignment
of body panels
• Unibody frame measurement
and alignment
• Welding
• Systems operation and service:
electrical, restrain, cooling
and suspension
• Custom body work, fabrication
and refinishing
Certifications
• Inter-Industry Conference on
Auto Collision Repair (I-CAR)