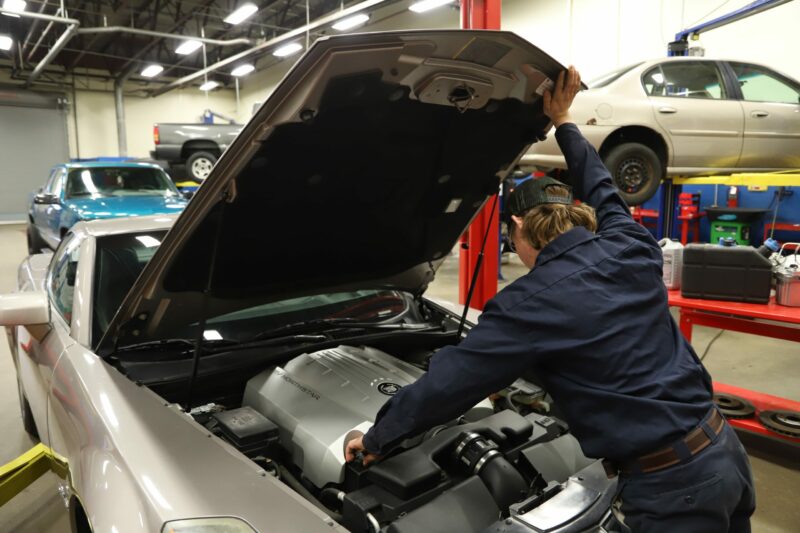 Because computers have made today's cars highly complex, the role of the automotive technician has become highly technical. Butler Tech Automotive Technology will teach you how modern technology is used to make cars run efficiently and with high quality.
The need for quality­ minded people to design, build and repair these vehicles of the future is and will continue to be in high demand. Students will have the opportunity to blend the basic concepts of engines, electric circuits, computer technology and customer relations into today's professional, highly trained, automotive technician. Our two­year program gives students exposure to electrical, steering and suspension, brakes, and engine performance, along with power trains, HVAC and drives trains as time permits. With these skills, you can continue into a two­ or four­year college through one of the Tech­Prep programs we offer or start as an entry level technician right out of high school. Some students qualify to work with a mentor in an automotive dealership. This program is accredited by the National Automotive Technicians Education Foundation.
College Tech Prep
Automotive Technology is a College Tech Prep program. It combines college­like instruction with hands­on activities to prepare students for the technical occupations of the future and to provide a pathway to an associate degree or beyond. College Tech Prep programs provide advanced skills in math, science, communication, and technologies. The College Tech Prep program combines academic and job skills at all educational levels. Courses are designed by local business, industry and labor representatives, in addition to high school teachers and college faculty.
Industry-Recognized Credentials
Students have the opportunity to earn Automotive Service Excellence (ASE) certification.
Enrollment
Butler Tech Automotive Technology is a full time program for high school juniors and seniors. Students will apply during sophomore year.
Student Organization
Program Costs
SkillsUSA Fee:  $25
Tools (approximate):  $150
Career Outlook
This program prepares future automotive technicians to continue their education at a two- or four-year college. A large number of Automotive Technology students qualify for and receive a Tech Prep Scholarship. Students may qualify to work with a mentor in an automotive dealership.
After graduation, students can pursue a career as a(n):
Auto mechanic with a dealership or independent garage
Parts salesperson
Service center mechanic
Specialist mechanic
With experience after 1-2 years in a technical school, a student could be a(n):
Accessory installer
Coating & spraying machine operator
Owner/operator of a garage
Service tower operator
Service writer
Specialist mechanic
Specialized auto mechanic
With experience after 4 years in a college and/or work experiences, the following are available to students:
Automotive engineer
Factory service representative
Industrial engineer
Mechanical engineer
Parts & service director
Experienced technicians can start their own businesses, work as adjusters for insurance companies or become factory representatives for industry suppliers.
Industry Overview
The transportation systems industry meets the growing need
for service and repair of today's complex vehicles. The role of the
automotive technician has become highly technical, requiring
trained professionals with education and experience. Get under
the hood in an Automotive Technology career to combine your skills
for problem solving and aptitude for computers.
Course Work
• Automotive troubleshooting
• Engine performance
• Electrical systems
• Computer technology
• Customer relations
• Suspension and steering
systems
• Transmissions
• Brake systems
• Power trains
• HVAC systems
• Drive trains
• Test equipment
• Hydraulic systems
Credentials
• National Institute for
Automotive Service
Excellence (ASE)