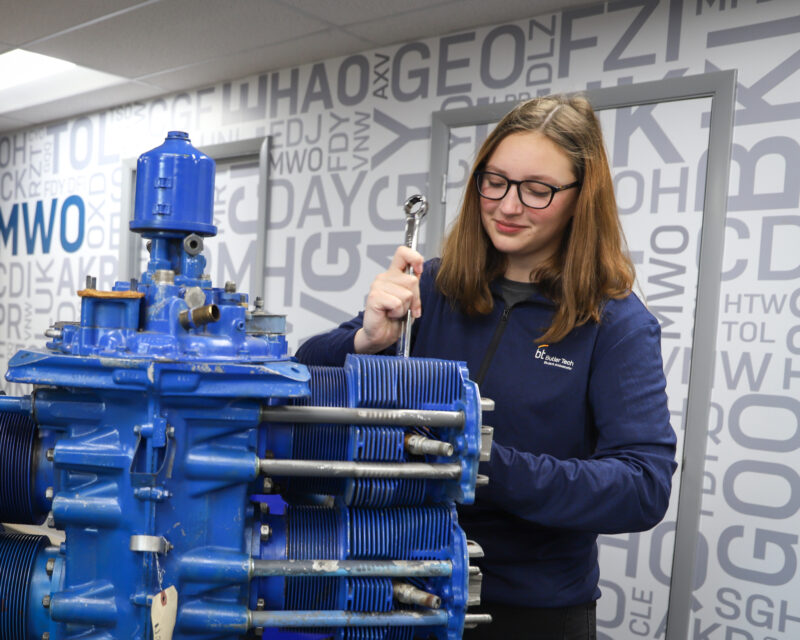 Let your career take off from Butler Tech's Aviation Exploration pathway! Become a FAA licensed drone pilot within your first year at Butler Tech. Students will study aviation theory, navigation and management, learn principles of meteorology forecasting, and apply knowledge of aircraft ground handling safety procedures to aviation maintenance. During your junior year, you will be immersed inside Butler Tech's very own hangar at the Middletown Municipal Airport. Through partnership with Cincinnati State, students will gain hands-on experience in airframe and power plant mechanics on aircraft.
College Tech Prep Program
Aviation Exploration combines college-like instruction with hands–on activities to prepare students for the technical occupations of the future, providing a pathway to an associate degree or beyond. College Tech Prep programs provide advanced skills in math, science, communication and technologies. Graduate from high school ready for an entry-level position, earning certification and the option to earn college credits to apply to a college degree. Continue your education at a two or four-year college.
Career opportunities:
Aerospace engineer
Aircraft mechanic
Avionics technician
Unmanned Aerial Systems (drone) pilot
Airframe and power plant mechanic
Pilot
Industry Overview
Aviation is quickly rising in the ranks as a major in-demand field.
Every day, the aviation industry transports over 10 million passengers
and around $18 billion worth of goods. Yet the number of pilot
certificates issued by the Federal Aviation Administration has
decreased by more than 60% since 1980. This mismatch of supply and
demand provides a tremendous opportunity for students at Butler
Tech's Aviation Exploration program to pursue careers in aviation.
Course Work
• Aviation maintenance
• Principles of avionics
• Aviation theory and navigation
• Unmanned Aerial Systems
(UAS), drones
• Weather theory and
meteorology forecasting
Credentials
• FAA Private Pilot Written Test
• FAA Commercial Remote
Operator's License (commercial
drone license)