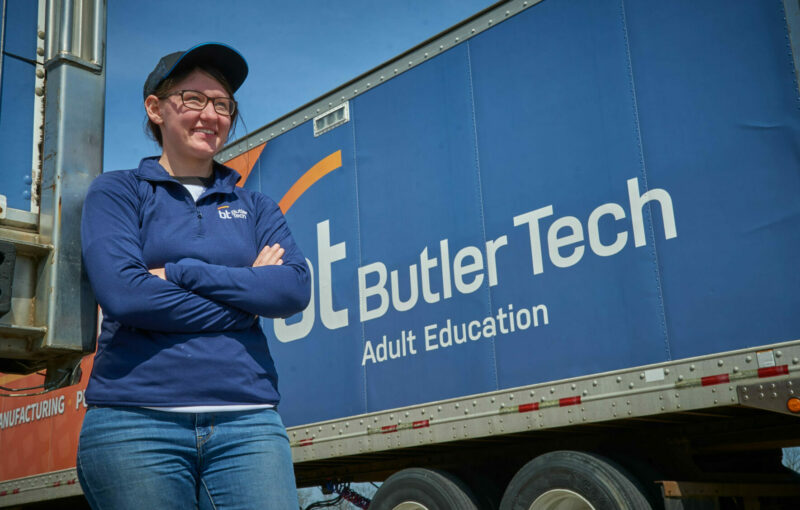 Truck drivers are an essential part of keeping our supply chains moving. The continual increase in demand for goods means freight-hauling will remain a strong career opportunity.
Your choice of a career depends on your lifestyle. Working as a long-haul truck driver may mean being away from home for long periods of time but can provide an opportunity to explore the country. Driving locally can provide a more regular schedule and more time for a family. Regardless of the path you choose, Butler Tech's CDL Pathway means you could be behind the wheel and earning a great paycheck in as little as five weeks.
Enrollment Requirements
Be at least 21 years old/18 for Ohio intrastate
Pass a Department of Transportation physical exam and drug screen
Have a valid driver's license and a good driving record
Per federal requirements (FMSCA 391.11 (2) ) student must be able to read and speak the English language sufficiently to converse with the general public, to understand highway traffic signs and signals in English, to respond to official inquiries, and to make entries on reports and records in English
Training combines classroom and behind-the-wheel experiences, including interactive driving simulators and a five-and-a-half-acre on-site driving course. Students learn on current model equipment that includes multiple day-cab and sleeper tractors, 53′ and 45′ trailers, and box trucks.
Butler Tech CDL Training is approved by the Ohio Department of Higher Education, taught by experienced instructors, and have a small student-to-instructor ratio.
Enrollment open
In Person
Part Time
CDL Commercial Drivers License Training
Tuition
Class A or Class B $5,825
Books / Supplies
Class A or Class B $375
Total Costs
Class A or Class B $6,200
Anticipated Salary
$58,099 per year; $27.93 per hour
Next Upcoming Program
September 25
CDL Class A Evening: 09-25-2023 - 12-20-2023
Mon-Thu 5pm-9pm
Public Safety Liberty Twp Campus
September 25
CDL Class B Evening: 09-25-2023 - 11-14-2023
Mon-Thu 5pm-9pm
Public Safety Liberty Twp Campus
October 2
CDL Class A Day: 10-02-2023 - 11-03-2023
Mon-Fri 8am-5pm
Public Safety Liberty Twp Campus
October 2
CDL Class B Day: 10-02-2023 - 10-20-2023
Mon-Fri 8am-5pm
Public Safety Liberty Twp Campus
October 30
CDL Class A Day: 10-30-2023 - 12-05-2023
Mon-Fri 8am-5pm
Public Safety Liberty Twp Campus
October 30
CDL Class B Day: 10-30-2023 - 11-17-2023
Mon-Fri 8am-5pm
Public Safety Liberty Twp Campus
December 4
CDL Class A Evening: 12-04-2023 - 03-04-2024
Mon-Thu 5pm-9pm
Public Safety Liberty Twp Campus
December 4
CDL Class B Evening: 12-04-2023 - 01-25-2024
Mon-Thu 5pm-9pm
Public Safety Liberty Twp Campus
December 4
CDL Class A Day: 12-04-2023 - 01-10-2024
Mon-Fri 8am-5pm
Public Safety Liberty Twp Campus
December 4
CDL Class B Day: 12-04-2023 - 12-22-2023
Mon-Fri 8am-5pm
Public Safety Liberty Twp Campus