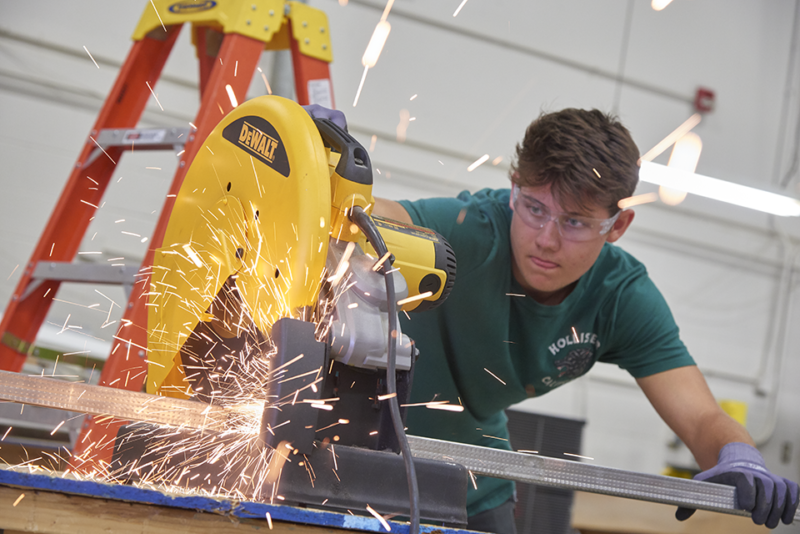 In the Construction pathway, build your future in the ever-growing field of construction. Civil engineering, construction management, site coordination, material handling, and independent contracting are just a few of the career opportunities available to those with carpentry skills. In Butler Tech Construction students will gain hands-­on experience by building and framing complete structures right in the classroom, working with power tools, understanding safety guidelines, and computing construction math.
Hands-on Experience 
Students will cover material science and the applications of traditional and emerging construction materials. Some of the topics covered are basic safety, construction math, introduction to hand and power tools, introduction to blueprints, basic rigging, floor systems, wall systems, roof framing, windows, and doors. During their senior year, students will progress to advanced skills such as reading site plans and elevations, concrete and reinforcing materials, foundations and flatwork, concrete forms, manufactured forms, framing with metal studs, drywall installation and finishing, cabinet installation, and interior door installation.
College Tech Prep
Butler Tech Construction Technology is a College Tech Prep program. It combines college-like instruction with hands-on activities to prepare students for the technical occupations of the future and to provide a pathway to an associate degree or beyond.
College Tech Prep programs provide advanced skills in math, science, communication and technologies. The College Tech Prep program combines academic and job skills at all educational levels. Courses are designed by local business, industry and labor representatives, in addition to high school teachers and college faculty.
After graduation from the full program, students can pursue a career as a(n):
Business owner
Carpenter's apprentice
Finish carpenter
Laborer in construction trades
Lumber sales and handling
Maintenance worker (large complex)
Rough carpenter
Other related occupations include: Drywall, siding, gutters, roofing, and painting.
With additional education and/or work experience, students can go on to careers as a(n):
Architect
Building contractor
Career-technical instructor
Insurance adjustor for a claims department
Manager of a home improvement company
Program Manager.
Industry Overview
Construction is a one-trillion-dollar industry in the U.S. and demand is quickly rising in this field. Construction workers are visionary thinkers who practice great self-control, give attention to detail and have high integrity. From everyday homes to skyscrapers, a career in Construction is full of opportunity to build our communities and serve those in the world around us.
Course Work
• Construction math
• Introduction to hand and power tools
• Introduction to blueprints
• Basic rigging
• Safety
• Floor and wall systems
• Roof framing
• Site plans and elevations
• Concrete and reinforcing materials
• Framing, drywall and finishing
• Cabinet and interior door installation
Credentials
• National Center for Construction Education and Research (NCCER)