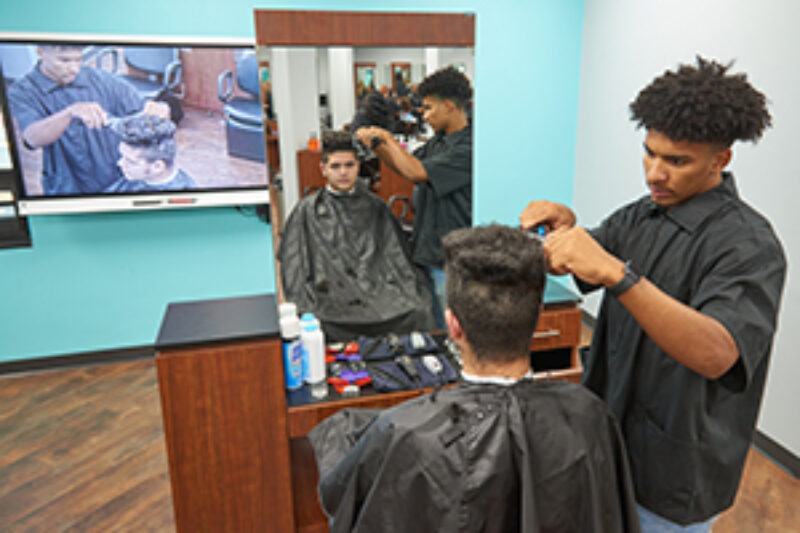 Cosmetology is both a science and an art. Students are trained to provide services to clients' hair, skin and nails to aid them in enhancing their appearance.
Butler Tech Cosmetology emphasizes hands ­on learning. Students will work with specific tools, equipment, and products associated with cosmetology. They will gain practical experience in a lab setting by performing hair, skin and nail services first on manikins, and then on other students. The program looks and runs like an actual salon. In the senior year, students provide services to the public through appointments, preparing them to directly enter the real world of cosmetology.
Cosmetology is a full time program for high school juniors and seniors. Students will apply sophomore year.
Butler Tech offers Cosmetology on its main campus (D. Russel Lee) and at the Northwest Career Center (open to Colerain and Northwest High School students).
INDUSTRY­ RECOGNIZED CREDENTIALS
State Cosmetology License Students are required to pass both lab and theory competencies according to the Ohio State Board of Cosmetology. Students who pass all competencies and academics are then eligible to take the licensing exam.
Industry Overview
Cosmetology is part of the 400-billion-dollar beauty industry, and jobs are in high demand. Employers want talented, confident stylists who can get the job done and keep clients coming back. In the cosmetology business, you can go as far as your skill, experience and passion will take you. Help people feel confident and beautiful with your skills for creativity, hospitality and empathy.
Course Work
• Hair Care:
– shampooing and rinsing
– scalp and hair treatment
– shaping and styling,
– coloring and lighting,
– chemical relaxing
– permanent waving
• Care of Hands and Feet:
– performing a manicure
– performing a pedicure
– hand and arm massage
• Care of Skin:
– facial massage
– make up
– facial waxing
• Sanitation and Safety:
– chemical properties and effects
of products used on the hair
– skin and nails
• Skin and Hair Structure
• Anatomy and Physiology
(relating to head, neck, face,
hands and arms)
• Computer and Receptionist Skills
Certifications
• Fully licensed by the Ohio
Cosmetology and Barber Board