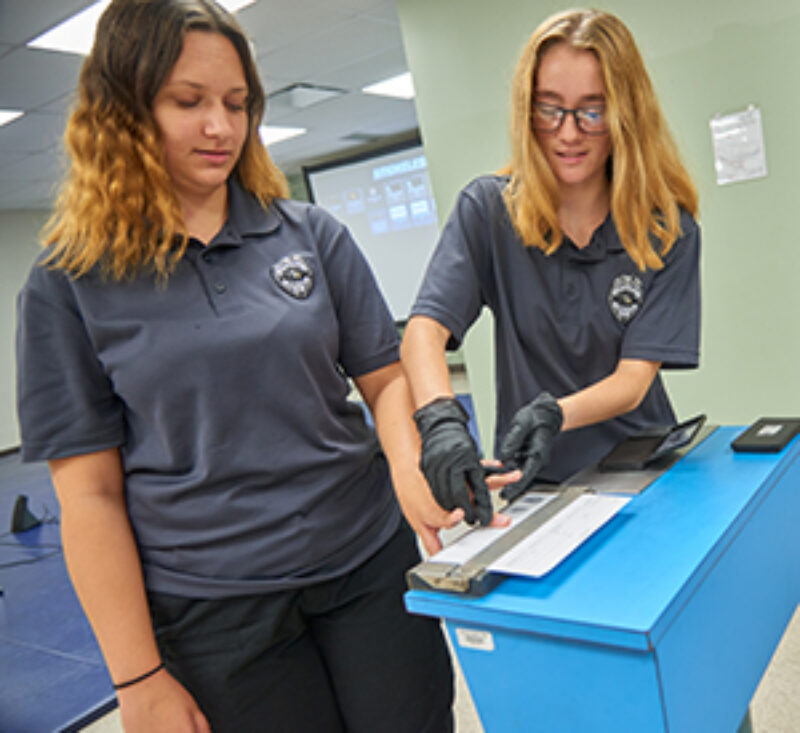 Butler Tech Criminal Justice Overview:
Put on a uniform and uphold the law of the land with a future in Criminal
Justice. Explore all angles of law enforcement, from police training to
court proceedings, forensics and investigations to crisis response.
In the Criminal Justice pathway, students:
• Experience practice runs in a real-life police cruiser
• Prepare for and respond to crisis situations
• Graduate with college credit
• Learn from the most experienced instructors: certified and
commissioned police officers
Criminal Justice students participate in SkillsUSA, a student business
organization which empowers members with a structured program
that promotes citizenship, leadership, employability, technical and
professional skills training. Students have the opportunity to compete
at regional, state and national levels.
College Tech Prep Program
Criminal Justice combines college-like instruction with hands–on activities to prepare students for the technical occupations of the future, providing a pathway to an associate degree or beyond. College Tech Prep programs provide advanced skills in math, science, communication and technologies. Graduate from high school ready for an entry-level position in a Criminal Justice career. Choose to enter the work world or continue your education at a two- or four-year college to pursue a higher-earning potential in Public Safety. Criminal Justice students have the opportunity to earn field certifications and college credits to apply to a college degree.
Industry Overview
Some careers are a lifestyle. Whether on the beat or in a lab, public
safety professionals are ready to protect and serve the public. Criminal
Justice includes a wide variety of occupations: law enforcement,
forensics and criminal investigation. If you pay attention to details,
have a strong sense of morality and remain calm in crisis, consider
Criminal Justice.
Course Work
• Arrest and search procedures
• Report writing
• Court procedures
• Traffic citations
• Crime scene skills
• Ethics and professionalism
• Forensic science
Credentials
• Cardiopulmonary
Resuscitation (CPR)
• First Aid Certification
• National Incident
Management System (NIMS)
100, 200, 700 and 800