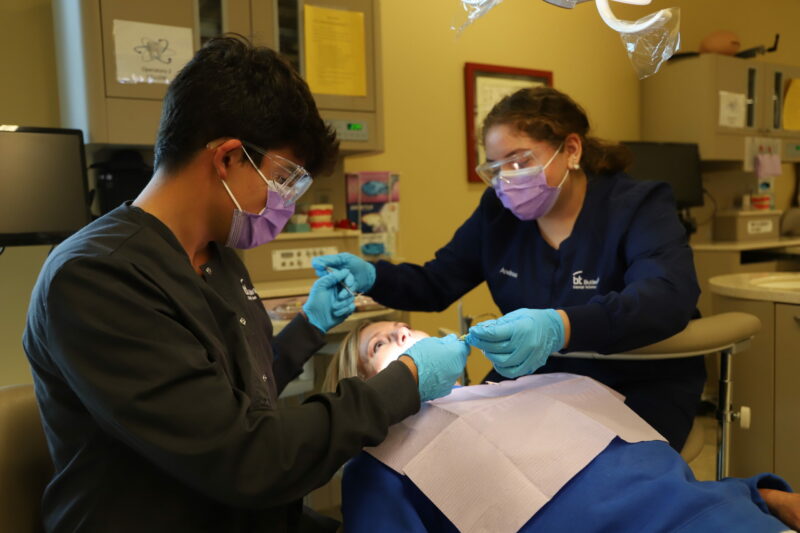 Butler Tech Dental Science Overview
Pursue a smile-worthy career in a state-of-the-art dental lab at Butler Tech. Learn comprehensive dental care, head and neck anatomy, cosmetic dentistry and more—all in a lab that simulates a real-world dental office. Dental science students have the opportunity to volunteer alongside experienced dental teams to provide dental care to participants in Give Kids a Smile and other volunteer dental programs.
The modern Butler Tech Bioscience Center on our West Chester campus is a red beacon of progress from its hill in West Chester. Its state-of-the-art labs are filled with the same tools used by professionals in the field. Classrooms
are designed to simulate real-world medical facilities.
Experienced instructors prepare students for careers in this booming industry, leading students to earn an x-ray license and state dental radiography license upon graduation.
Hands-On Experience
Learn Dental Science by actually doing it. Butler Tech has a unique partnership with local dental offices, offering students hands-on opportunities like:
• Job shadowing • Internship • Volunteer dental experiences
Graduate from high school ready for an entry level position as a Dental Assistant, or choose to earn certification and up to 60 college credits to apply to a college degree. All of our students at the West Chester campus participate in the Health Occupations Student Association (HOSA), a career technical student organization for future health professionals. Compete in a variety of health-related challenges through HOSA to enhance your knowledge, skill and leadership development.
Industry Overview
Technology is revolutionizing the world of dentistry, particularly with the rise of 3D printing as a way of providing custom dental solutions to patients. In addition to innovative technology leading the way, a growing awareness of the importance of oral hygiene has created an increase in demand within the dental industry. There are 200,000 dentists in the U.S., and that's not enough!
Course Work
• Dental radiography
• Dental technology
• Medical and dental office technology
• Medical terminology
• Oral diagnosis and
treatment planning
• Senior capstone
independent research project
on the topic of your choice
Certifications
• First Aid
• CPR
• Dental radiography license
• Opportunity to earn a
Certified Ohio Dental Assistant
(CODA) certification