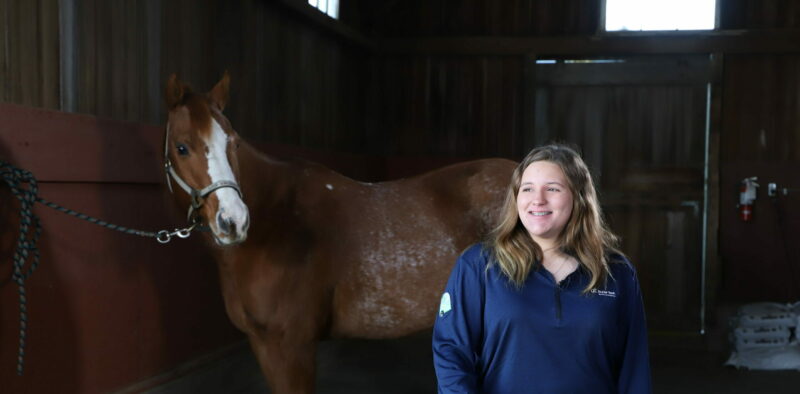 Butler Tech Equine Science Program Overview
Throw open the barn door to the science and industry of horses on the Butler Tech Equine Science pathway. Discover horse anatomy, physiology and psychology. Master how to interact with these large, majestic animals
in work, farm and ranch settings. No previous experience with horses is required. Groom, train and ride one of 15 horses on campus every day.
• Develop riding skills
• Learn business management strategies for horse-related industries
• Work alongside equine specialists to care for horses
The Butler Tech Natural Science Center is located on a former 72-acre fruit farm, the perfect natural learning environment. The authentic farm setting gives the opportunity to step away from the traditional classroom and apply your core classes directly to the horses in the campus stables, barns and indoor or outdoor arenas every school day. Enjoy a tight-knit community of like-minded students.
College Tech Prep Program
Many Equine Science graduates work in allied industries such as breed associations, feed companies, research laboratories and pharmaceutical companies. Others continue their education for a professional degree, such as veterinary medicine, or work toward a master's or Doctor of Philosophy degree. Three out of four Equine Science students go directly into two- or four-year colleges upon graduation with help from a full-time college counselor to create a career plan.
Student Organization
Equine Science students participate in National Future Farmers of America (FFA), a dynamic youth organization that prepares members for premier leadership, personal growth and career success through agriculture education. Awards and scholarship opportunities are also available through this program.
Industry Overview
The United States horse industry is a $50 billion business. Use your abilities to empathize, give attention to detail, and work with your hands in a career in Equine Science, an agricultural industry. From house pets to award-winning stallions, farms to hospitals, a career in Equine Science is full of opportunity to care for, train and breed majestic horses.
Course Work
• Animal behaviors
• Horse health and nutrition
• Equine industry economics
• Humane treatment of horses
in agriculture
• Equine biology and physiology
• Horseback riding, training
and grooming
• Project-based instruction
• Equine health care and
rehabilitation
• Equine business management
and legal compliance
• Equipment selection,
maintenance and use