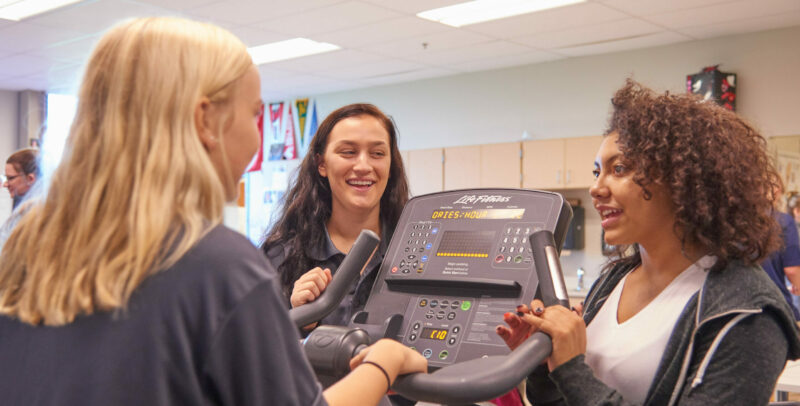 Butler Tech Exercise Science Program Overview
Sports and patient care come together in the active careers of Exercise Science. Learn how the body works, how to make it stronger, and help patients recover from and prevent injuries. Apply procedures and techniques used in athletic training, injury prevention and rehabilitation. Practice clinical and field evaluative processes, conditioning techniques and treatment options.
The modern Butler Tech Bioscience Center is a red beacon of progress from its hill in West Chester. Its state-of-the-art labs are filled with the same tools used by professionals in the field. Classrooms are designed
to simulate real-world medical facilities.
Experienced instructors prepare students for careers in this booming industry in a lab with advanced exercise and training equipment.
Hands-On Experience
Learn Exercise Science by actually doing it. Butler Tech has a unique partnership with local hospitals and sports training facilities, including the YMCA, offering students hands-on opportunities like:
• Job shadowing • Internship • Job co-op experiences
All students at our West Chester campus participate in HOSA—Future Health Professionals, a career technical student organization for future health professionals. Compete in a variety of health-related challenges through HOSA to enhance your knowledge, skill and leadership development.
Industry Overview
With a nationwide growing emphasis on the importance of taking care of our health, the field of exercise science is ever expanding. New technological developments, including activity trackers and smartwatches, have enhanced the landscape for exercise science professionals.
Course Work
• Emergency procedures
• Exercise and athletic training,
including athletic taping
• General health and wellness
• Injury recognition and
prevention
• Injury rehabilitation and
treatment
• Exercise physiology
• Fitness assessment and
evaluation
• Medical terminology
• Nutrition
• Weight management
• Senior capstone—
independent research project
in the field of your choice
Certifications
• First aid
• CPR
• Personal trainer
• Physical therapy aide