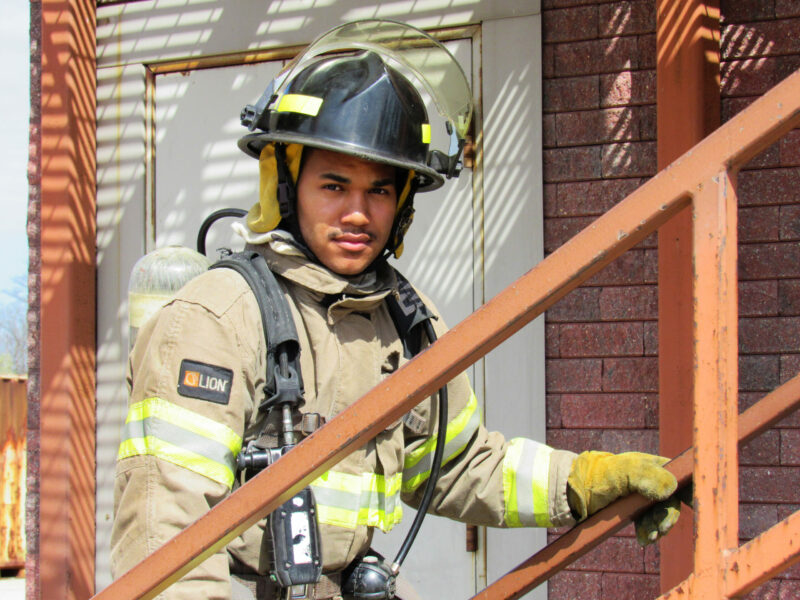 Butler Tech Firefighting Technology Program Overview
Butler Tech's Firefighting Technology pathway sends students into rewarding careers as first responders. Assist people in life-or-death situations as an Emergency Medical Technician (EMT) or Firefighter. Learn skills for vehicle extrication and structural firefighting. Prepare for fire management in an actual fire—seniors in this program get to train in a controlled burn atmosphere. All firefighting equipment and gear is provided.
With training and credentials from Butler Tech, you'll graduate a Level II Firefighter, ready to serve anywhere in Ohio. Your EMT-Basic is nationally registered (valid across the U.S.), and you're qualified for further certification as a Paramedic. Firefighting Technology students participate in SkillsUSA, a student business organization that empowers members with a structured program that promotes citizenship, leadership, employability, and technical and professional skills training.
College Tech Prep Program
Firefighting Technology combines college-like instruction with hands-on activities to prepare students for the technical occupations of the future, providing a pathway to an associate degree or beyond. College Tech Prep programs provide advanced skills in math, science, communication, and technology. Graduate from high school as a full-time Level II Firefighter and a Nationally Registered EMT-Basic. Choose to enter the work world, or continue your education at a two- or four-year college to pursue a career in Public Safety. Earn college credits to apply for a college degree.
Industry Overview
When lives are at risk, it takes a special kind of person to answer the call and go toward danger instead of away from it. From daring rescues to helpful city-servants, a career in Firefighting Technology is full of opportunity to serve and protect citizens. In cities, townships—and even some large companies—there are thousands of firefighters and paramedics at work, keeping people and property safe. Many firefighting jobs have great benefits, making this adventurous field competitive.
Course Work
• Emergency vehicle operations
• Hazardous materials response
• Pre-hospital medical training
• Search & rescue
• Structural firefighting
• Vehicle extrication
Credentials
• Level I and II Firefighter
• Nationally Registered
Emergency Medical
Technician-Basic (NREMT-B)
• Cardiopulmonary
Resuscitation (CPR)
• Hazardous Materials
Operational Level Training
(HAZMAT)
• Emergency Vehicles
Operations Training (EVOC)
• National Incident
Management System (NIMS)
100, 200, 700 and 800