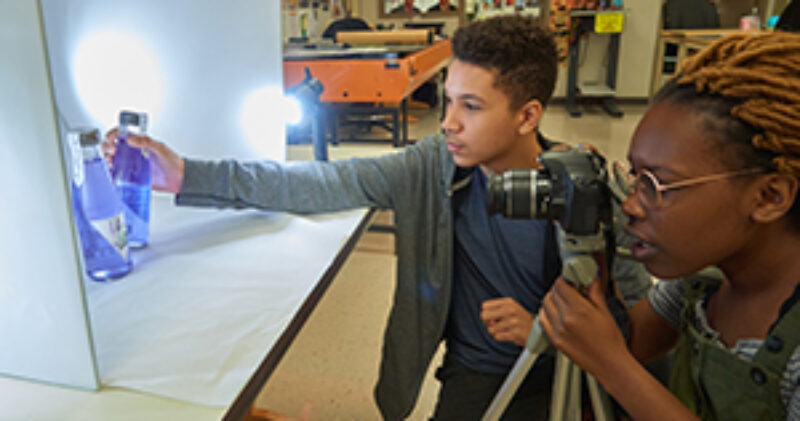 Butler Tech Graphic Design Program Overview
Blend your artistic talent with technical skills learned through hands-on training in the Graphic Design pathway. Use the latest technology and design programs to create professional-grade projects from concept to completion. Get your portfolio college and career-ready as you gain real-world experience in our vibrant studio setting.
Learn Graphic Design by actually doing it. Earn high school and college credit for free as you explore a variety of commercial and visual arts specialties to see which one really interests you.
College Tech Prep Program
In the highly competitive field of Graphic Design, a college degree is recommended. Eighty percent of Butler Tech's Graphic Design students go on to attend a two-or four-year art college. Butler Tech can get you started for free, with the opportunity to earn college credits and build a college-ready portfolio that could lead to scholarship awards.
Student Organization
All Graphic Design students participate in SkillsUSA, a student business organization which empowers members with a structured program that promotes citizenship, leadership, employability, technical and professional skills training.
Industry Overview
If your art is a lifestyle, consider a future in Graphic Design. Graphic designers communicate ideas and information in creative and inspiring images. Develop advertisements, logos, layouts, package and poster designs. Bring your art to life as characters in animation or with visual effects. Use your passion, talent and creativity to inspire in our rapidly expanding digital world.
Course Work
Animation and character development
Art and design theory
Color theory
Design and layout – 2D and 3D applications
Design software: Adobe Creative Suite (Photoshop, Illustrator & more)
Digital photography
Drawing, sketching, and rendering techniques
During senior year, focus on a client-based project with a team
Enter portfolios into judged contests for possible college credit
Graphics software
Large format printing
Multi-page layout and brochure design
Opportunity to earn college credit in AP 2D Student Design
Photo editing