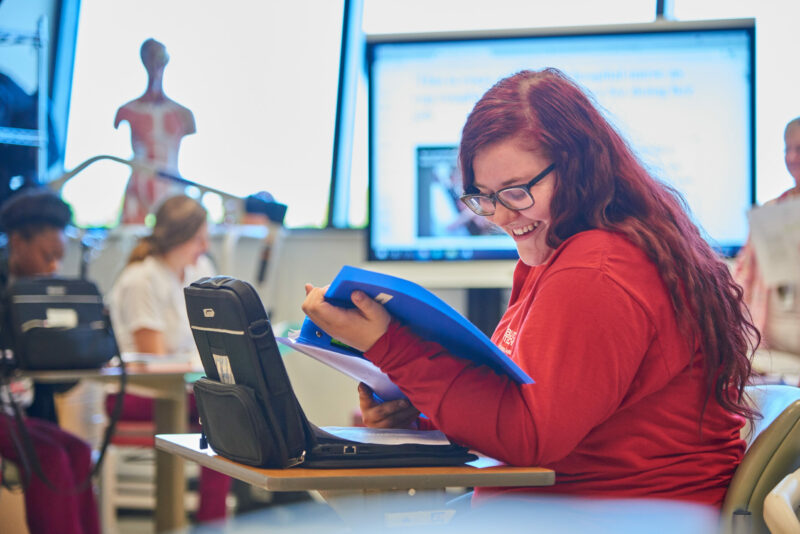 Butler Tech Healthcare Science Overview
The Butler Tech Bioscience Center is a state-of-the-art environment allowing for hands-on learning opportunities with the same tools used by professionals in the field. The classrooms are designed to simulate real-world medical facilities.
Choose a career from more than 250 specialties in the healthcare field. Butler Tech's Healthcare Science pathway gives you the building blocks to your dreams, teaching students how to care for patients at all stages of life, collect vital signs, document changes over time and respond to life-threatening emergencies. During senior year, Healthcare students select one specific course of study: patient care skills leading to State-Tested Nurse Aide (STNA) or Intro to Medical Assisting, which could prepare them for future educational options.
Hands-On Experience
Learn Healthcare Science by actually doing it. Butler Tech has a unique partnership with local hospitals and medical practices, offering students hands-on opportunities like:
• Job shadowing • Internship • Clinical experiences
Graduate from high school ready for an entry-level position as a State-Tested Nurse Aide (STNA) or Phlebotomist. Earn certifications and up to 30 college credits to apply toward a college degree in a more advanced course of study. Many students earn college scholarships upon successful completion of the Healthcare Science pathway.
All students at our West Chester campus participate in the HOSA – Future Health Professionals, a career technical student organization for future health professionals. Compete in a variety of health-related challenges through HOSA to enhance your knowledge, skill, and leadership development.
Industry Overview
According to the U.S. Bureau of Labor Statistics, healthcare careers are projected to grow 18% by 2026, adding about 2.4 million new jobs in the field. Use your instincts for analytical thinking, problem-solving, and caring for others in an exciting and meaningful career in caregiving.
Course Work
Health science and technology
Medical assisting
Medical terminology
Patient-centered care/diagnostics
Principles of allied health
Pharmacology
Phlebotomy
Senior Capstone

Independent research project
Internship/early placement
Pet therapy
Credentials
CPR
First aid
Phlebotomy
State Tested Nurse Aide (STNA)
More, based on capstone specialty