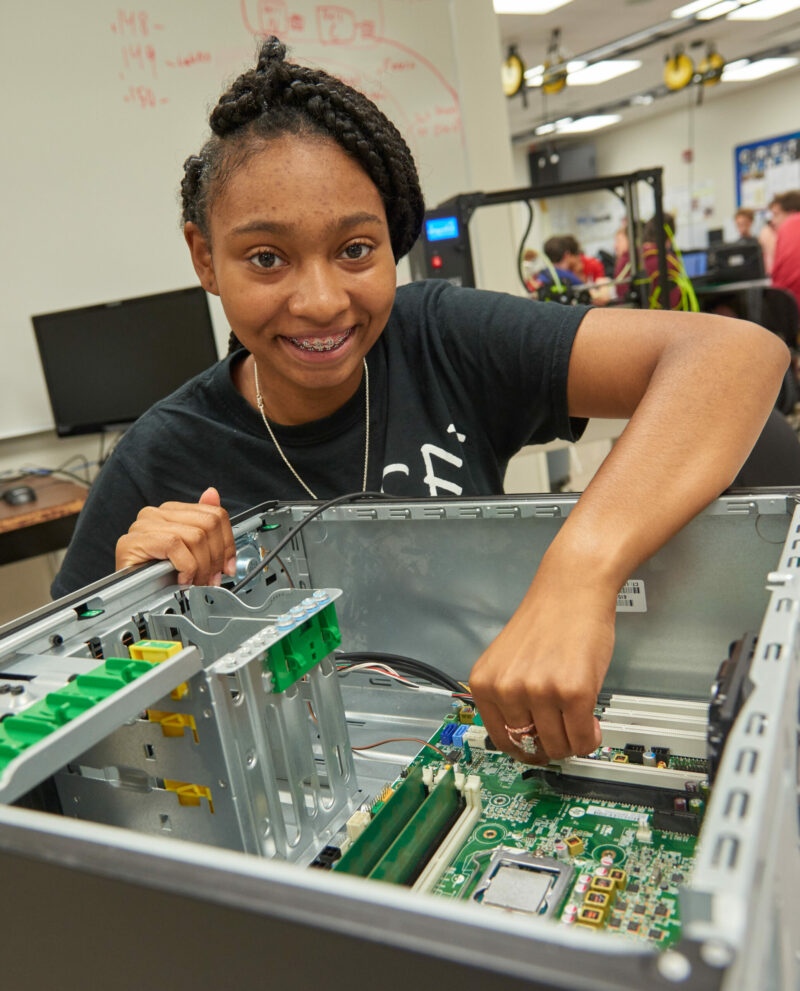 Butler Tech Information Technology Overview:
Butler Tech's Information Technology pathway leads students to explore ways to create, maintain and secure information systems and other key technology components. Training along side field professionals, students gain hands-on experience in real-life settings as they learn how to build, customize, upgrade and repair computers. IT students participate in Project-Based Learning (PBL) activities where they design and build homebrew devices, create gaming/animation programs, design a website or learn to program.
College Tech Prep Program
Students can qualify for Post-Secondary Education Option (PSEO), allowing them to attend college for part of the day and return to Butler Tech for lab classes or co-op opportunities. Learn Information Technology by actually doing it. Butler Tech has a unique partnership with local companies, offering students hands-on opportunities like:
• Job shadowing • Internship • Volunteer experiences
During senior year, students have the opportunity to develop an independent study based on their IT field of choice. Graduate from high school ready for an entry-level position or choose to earn certification and up to 15 college credits to apply toward a college degree, all for free.
Student Organization
Information Technology students participate in Business Professionals of America and SkillsUSA. Both student business organizations empower members with a structured program that promotes citizenship, leadership, employability, technical and professional skills training
Industry Overview
Information Technology careers are all about problem solving, creativity and applying knowledge to the newest tech gadgets. Due to rapid growth in cloud computing and public concern about information security, the demand for this field is high and growing. Use your skills for innovation and trouble-shooting to shape our digital culture in an IT career.
Course Work
• Application software
• Computer networking
• Telecommunications
and electronics
• Game design and animation
and modeling
• Network security
• Operating systems including:
Unix, Linux, Windows,
Novell, and Apple's OSX
• Cloud computing
• Virtualization
• Health IT
• Interactive media