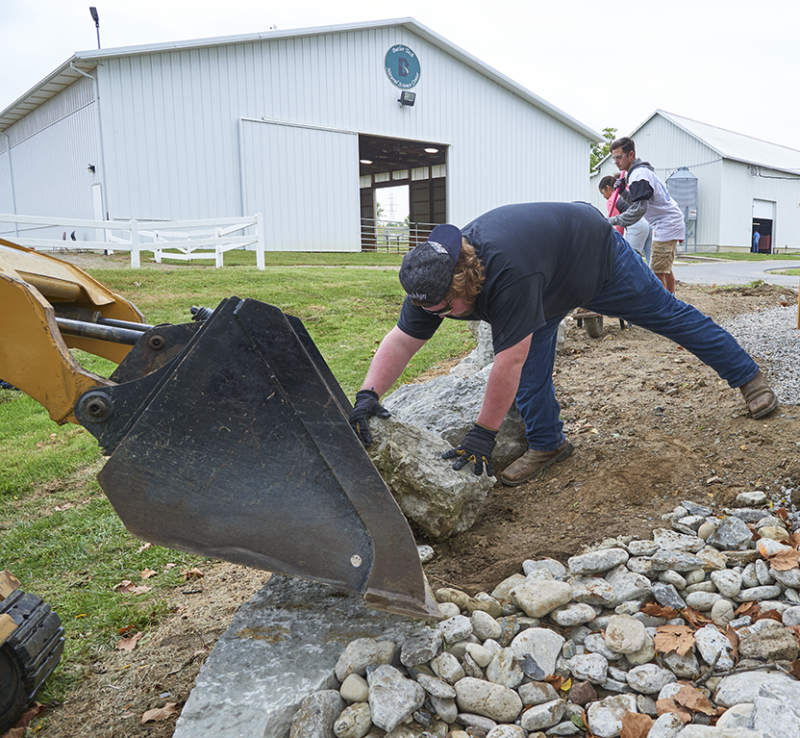 Landscape Design and Construction Program Overview
In the Landscape Design and Construction pathway at Butler Tech, art and science collide to create beautiful, functional and recreational spaces. This pathway prepares students for immediate employment and business management. Juniors and seniors partner with local professionals to plan and execute special projects, learning basic construction skills for future use in the industry. Gain real-world experience designing and building landscapes and hardscapes.
The Butler Tech Natural Science Center is located on a former 72-acre fruit farm on Route 63 in Monroe. The outdoor setting, coupled with top-notch facilities, provides you with the opportunity to work in a real-world setting with industrial equipment and natural resources in Landscape Design and Construction. In this pathway, you will spend the majority of your time in an outdoor setting.
Hands-On Experience
Learn Landscape Design and Construction by actually doing it. Butler Tech has a unique partnership with local businesses, offering students hands-on opportunities like:
• Job shadowing • Internship • Job co-op experiences
Graduate from high school ready for an entry-level position at a local landscaping company, or choose to continue your education at a two–or four–year college to work in landscape architecture, golf course management or horticulture careers.
Student Organization
Landscape Design and Construction students participate in the National Future Farmers of America (FFA), a dynamic youth organization that prepares members for premier leadership, personal growth and career success through agriculture education.
Industry Overview
Landscape Design and Construction is so much more than cutting grass. A career in Landscape Design and Construction can be creative, innovative and well-paying. From neighborhoods to elaborate cityscapes, this field is full of opportunity to create and inspire the world around us.
Course Work
• Landscape design
• Hardscape installation
• Landscape systems
management
• Turf science and management
• Plumbing, electricity
and flooring
• Plan outdoor living spaces
and flower gardens using
computer-aided design
applications
• Operate, maintain and
repair vehicles, from small
engines to heavy construction
equipment essential to
landscape and design
Credentials
• Ohio Certified Nursery
Technician – Landscape
• Commercial Drivers License