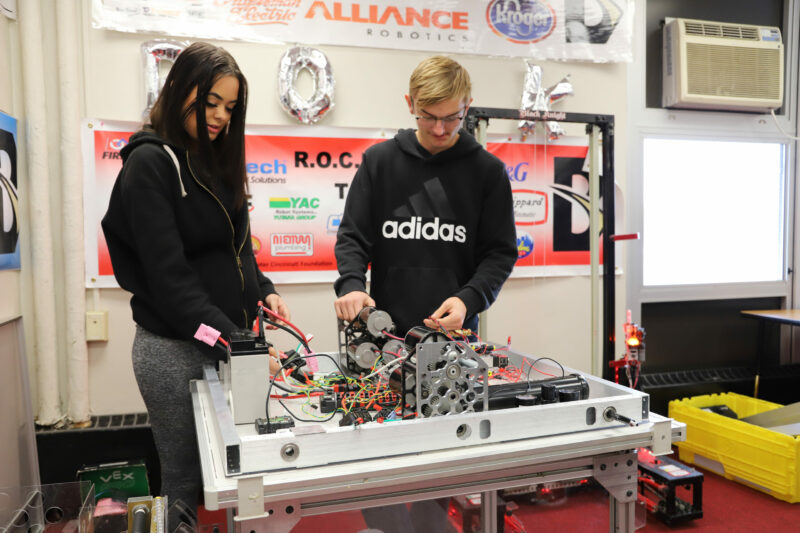 Butler Tech Mechatronics Program
Overview Students in the Mechatronics pathway learn to design and create solutions to complex problems using cutting-edge technologies. You'll learn to employ robotics to perform various operations, apply electrical theory and use electronic devices to control machines, and manufacture parts and devices. Plus, students in this pathway can complete an associate degree in Electro–Mechanical Engineering Technology while in high school.
Degree: Associate of Technical Studies in Electro–Mechanical Engineering Technology, Sinclair Community College
MECHATRONICS APPLICATION REQUIREMENTS
Complete a Butler Tech application
Must register to Sinclair College (by January 14th, 2022)
Must have a Tartan ID Number and Sinclair Username
Must take the Aleks math assessment and receive a score of 31 or above / or receive an ACT math score of 20
Must take the WritePlacer and receive a score of 5.
View the Application and Lottery  Process for All Butler Tech High School Campuses for the  2022-2023 Applicants for the School Year
Industry Overview
As an emerging high-demand field, mechatronics is a hybrid of mechanical, electrical and computer engineering. Professionals in mechatronics utilize applications of robotics, control systems, electro-mechanical systems and similar engineering.
Course Work
• 3-D modeling
• Mechanics, energy, statics,
materials and kinematics
• Applied mathematics
• Robotic operations and system
configurations
• Coding, compiling and
debugging
• Automation and modern
manufacturing
• Employ the engineering design
process to generate solutions
to proposed problems
Certifications
Degree: Associate of Technical Studies in Electro–Mechanical
Engineering Technology, Sinclair Community College
• Certified SolidWorks Associate
(CSWA); Certified SolidWorks
Professional (CSWP)
• Certified Autodesk Inventor User
• Industrial Robotics Certifications
– FANUC, ABB