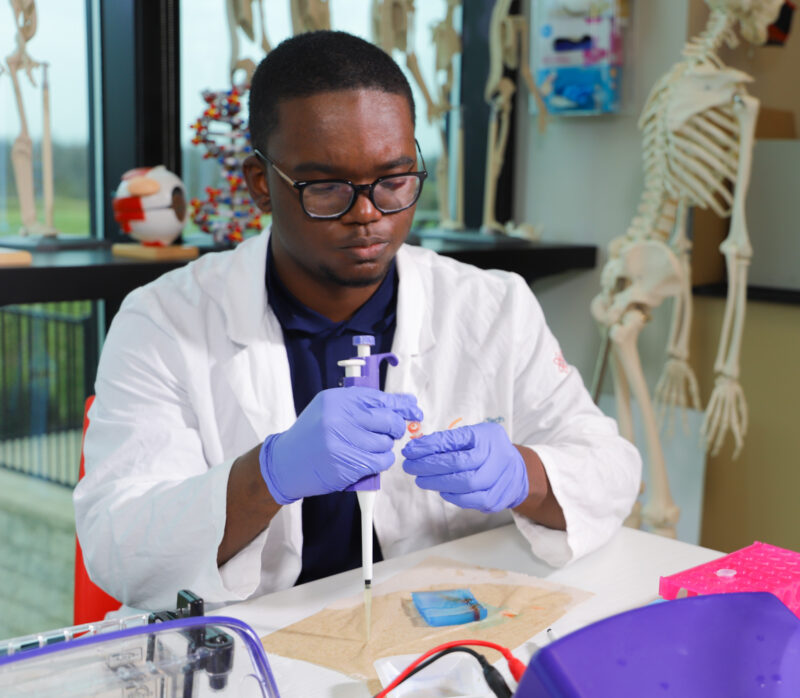 Examine the world from a cellular level as a biomedical scientist. Students in the PLTW Biomedical Science pathway use their skills of observation, problem-solving and attention to detail to protect and heal the world around us. See your future come into focus when you slip into a lab coat, look through the eyepiece of a microscope, diagnose a disease or solve a medical mystery. The modern Butler Tech Bioscience Center is a red beacon of progress from its hill in West Chester. Its state-of-the-art labs are filled with the same tools used by professionals in the field. Classrooms are designed to simulate real-world medical facilities. Experienced instructors prepare students for careers in this booming industry using the nationally-renowned Project Lead the Way (PLTW) curriculum.
Butler Tech has a unique partnership with local hospitals and medical practices, offering students hands-on opportunities like:
• Job shadowing • Internship • Clinical experiences
Student Organization
All students at our West Chester campus participate in the HOSA – Future Health Professionals, a career technical student organization for future health professionals. Compete in a variety of health-related challenges through HOSA to enhance your knowledge, skill and leadership development.
Industry Overview
Step into a field that is booming in our region. Biomedical science is one of the largest and fastest-growing industries in America,
employing more than 14 million people in a wide range of careers. Biomedical science provides an opportunity for people to use their skills to tackle some of the biggest challenges facing human life.
Course Work
• Human body systems
• Medical terminology
• Medical interventions
• Forensics
• Principles of biomedical science
• Biomedical innovations
• Senior capstone
independent research project
in the field of your choice
Certifications
• First aid
• CPR
• Capstone courses, as applicable
• Phlebotomy
• Pharmacy Technician