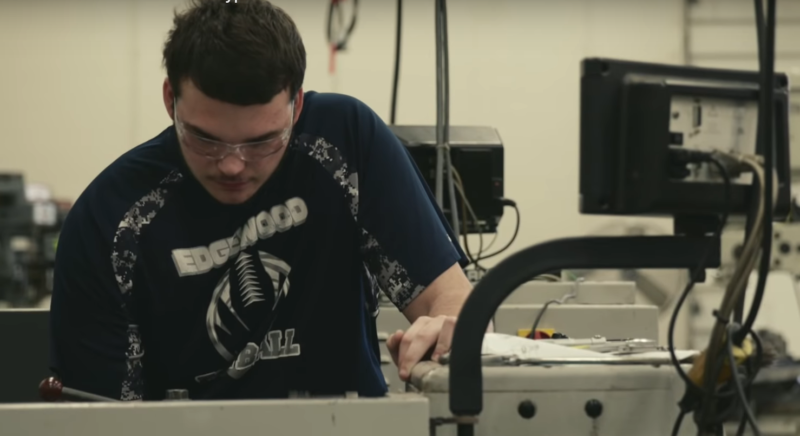 Butler Tech Precision Machining Program Overview
Precision Machining students at Butler Tech learn all aspects of milling, machining and grinding. Prepare for a high-tech career with skills for new and older technology. Utilize state-of-the-art equipment to invent, design and create metal and plastic parts that create tomorrow's essential products.
Hands-On Experience
Learn Precision Machining by actually doing it. Butler Tech has a unique partnership with local businesses, offering students hands-on opportunities like:
• Job shadowing • Internship • Job co-op experiences
College Tech Prep Program
Precision Machining combines college-like instruction with hands-on activities to prepare students for the technical occupations of the future, providing a pathway to an associate degree or beyond. College Tech Prep programs provide advanced skills in math, science, communication and technologies.
Graduate from high school ready for an entry level position as a machinist or tool operator, earn field certifications and have the option to earn college credits to apply to a college degree. Continue your education as an apprentice or at a two or four-year college.
Student Organization
Precision Machining students participate in SkillsUSA, a student business organization which empowers members with a structured program that promotes citizenship, leadership, employability, technical and professional skills training. Students have the opportunity to compete at regional, state and national levels.
Industry Overview
From delicate circuitry to automobiles, military equipment and beyond, anything with parts is made possible by Precision Machining careers. Professionals in this booming field create the pieces that move the world around us. As technology advances, the need for more sophisticated machinery and operators becomes essential. Use your hands and analytical and creative skills in an exciting future in Precision Machining.
Course Work
• Advanced manual machining
• Engine lathe operations
• Blueprint reading
• Computer numerical control
(CNC) machining
• Milling machine operations
• Reading and measuring gauges
• Surface grinding
• Measurements using
standard gauges
• Interviewing and career
planning