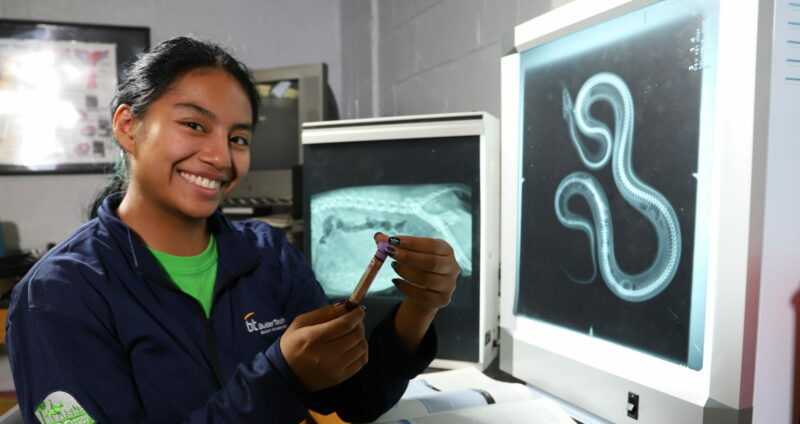 Butler Tech Veterinary Science Program Overview
The Butler Tech Veterinary Science pathway sends students into rewarding careers with animals. Share a classroom with creatures: a dog curls up in the corner, a three-legged cat jumps from desk to desk, a bearded dragon climbs across a backpack. Veterinary Science labs are lined with pens, cages and aquariums. Get hands-on experience as you learn to:
• Use the latest lab equipment • Observe and report animal behaviors • Provide care for domestic and exotic animals as well as livestock
The Butler Tech Natural Science Center is located on a former 72-acre fruit farm, the perfect natural learning environment. The authentic farm gives the opportunity to step away from the traditional classroom and apply your core classes directly in the campus stables, barns and labs. Enjoy a tight-knit community of like-minded students in a real-world setting, surrounded by industrial equipment and more than 30 animal species.
Post-secondary Options
Many Veterinary Science graduates work in allied industries such as breed associations, feed companies, research laboratories and pharmaceutical companies. Three out of four Veterinary Science students go directly into two- or four-year colleges with the goal of becoming a Veterinary Technician or a Doctor of Veterinary Medicine.
Student Organization
Veterinary Science students participate in National FFA (formerly Future Farmers of America), a dynamic youth organization that prepares members for premier leadership, personal growth and career success through agriculture education. Awards and scholarship opportunities are also available through this program.
Industry Overview
Use your abilities to empathize, think critically, give attention to detail, be dependable and work with your hands in the Veterinary Sciences. From house pets to award winning stallions, farms to hospitals, Veterinary Science is a growing industry, full of opportunity to care for all the living creatures on our planet.
Course Work
• Animal science and health
• Safety and sanitation
• Medical terminology
• Hospital procedures
• Laboratory procedures
• Parasitology
• Office management
• Principles of diseases,
animal behavior, surgery
• Animal behavior, welfare
and husbandry
• Animal restraining
techniques
• Pharmacology and posology
Certifications
• Elanco Fund of Animal
Science Certification
• Elanco Veterinary Medical
Application Certification
• OSHA-10 General
Industry Agriculture
• IDEXX Learning
Center Certification