10th Grade Academy students in Lauren McDaniel's Language Arts course have been working diligently on a multigenre research project requiring the students to answer the question, "how do aspects of a person's identity impact his or her everyday life?" They recently visited The Fringe Coffee shop in Hamilton to work on their projects and channel their creativity.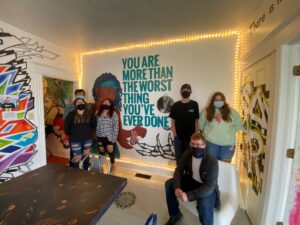 For the project, the students chose an identifying trait and then conducted research on the topics such as living with attention deficit disorder, the impact of a strong relationship with a parent, and disordered eating. Using their research, along with their own experiences and imagination, the students created pieces of writing to represent their topic using various genres of writing. Their collections will include writing genres such as news articles, poems, comic strips, police reports, and more.
"This project requires a lot of creativity," explained instructor Lauren McDaniel, "and creative writers tend to go to coffee shops and other creative spaces to take on that identity. I wanted to encourage my students to do what real writers actually do and provide the time and space for that to happen."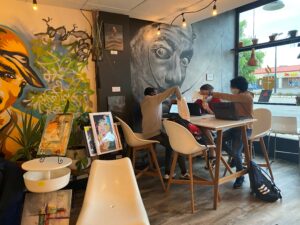 The students admitted that being at The Fringe, even for just a brief time allowed them to tap into their imaginations and write.
Brayden McDaniel, a sophomore who will move into the Information Technology program for his junior and senior years said, "okay, this sounds weird, but being here really does make me feel like a real writer."
Lauren McDaniel hopes to utilize The Fringe and other creative spaces in Butler County to help her students produce their best writing in the future as well.