Alumni Spotlight: Corey "Kobe" Seay
Program: Adult Education, Butler Tech Police Academy
Graduation: 2020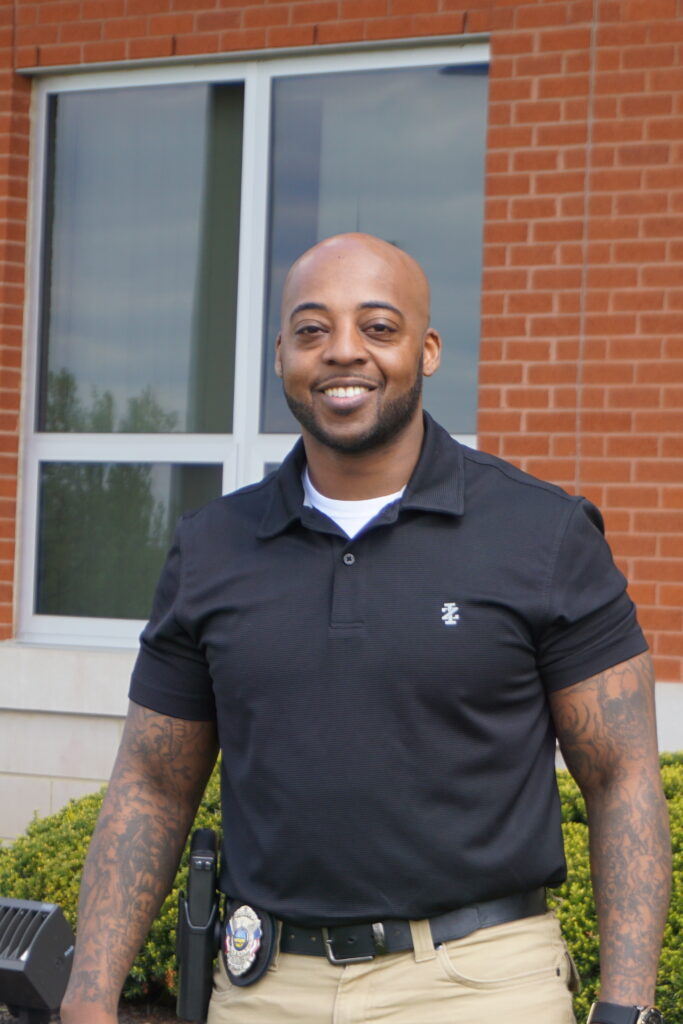 Kobe Seay walks unassumingly into Butler Tech's Public Safety Education Center and is promptly greeted by several staff members as "officer" and "sergeant." Almost immediately, he approaches the plaques on the wall displaying the Brian Dulle award winners and finds his name. Proud and humble, he gives his million-dollar smile.
As a black boy in the post-Jim Crow era of Alabama's deep south, Seay didn't grow up dreaming of becoming a police officer like many little boys do. In fact, he remembers times that he feared the police that patrolled the poor, crime-riddled neighborhoods he grew up in.
"I was raised by a single mom. She worked multiple jobs to make ends meet and I can remember sleeping in cars to stay warm as we navigated between homes," shared Seay. "She sacrificed everything to give me a fighting chance, so I made a vow to leave that life and never return."
After high school, Seay enlisted in the Armed Forces with the goal of earning enough money to provide his mother a better life.
"I ended up doing four tours in the United States Army, three to Iraq and one to Kuwait," said Seay. "In the beginning, it was about the money for my mom. But after ten years, I realized I really loved it. I thrived on the structure and discipline."
Following his active duty, Seay continued to return overseas as a contractor but admits that those experiences began to weigh on him.
"I made the difficult decision to take my experience back to the civilian world where I could lay roots and finally begin a family of my own."
In the months and years following, Seay dabbled in various jobs and college courses. He earned an associate's degree in computer science but decided it wasn't feeding his passion. He pursued education in physical therapy, but once again found that it wasn't his calling. Finally, in the fall of 2019, a college advisor suggested Seay get back to his military lifestyle by enrolling in the police academy.
"It's not something I had ever really considered," admitted Seay. "It was a revelation and commitment I hadn't expected, and one that I admit needed reassurance."
That October, Seay drove to Lansing, Michigan where he had since relocated his mother, and asked for her blessing and assurance that becoming a peace officer was the right move.
"She told me, 'don't just be a police officer Kobe, be the best officer,'" said Seay. "So, I finalized the Butler Tech Police Academy packet in one day," Seay said of the typically lengthy process for potential cadets. "I did everything all that day, got my fingerprints, had a physical, all of it."
Seay's discipline and eager attitude paid off as he filled the final spot in the January 2020 Basic Police Academy class. His mother, excited to share in her son's journey, came to Ohio to spend the holidays with his family and be there for the beginning of his path toward a career in law enforcement. But on January 17, 2020, Seay returned home from class to find his mother unresponsive on the floor of his living room.
"Even with all of my critical life-saving training," said Seay, "I was unable to revive her."
As always with the Butler Tech family, the instructors and fellow cadets rallied around Seay during what he recalls as the most difficult time of his life. However, he made up his mind that he couldn't continue in the program. He was broken.
"I called Commander Otto," remembered Seay, "and he asked me if I was going to drop out…honestly, I had already made my mind up. But for whatever reason, that isn't how I answered him. I can't explain it in words, but it was as if my mother's strength and determination took control."
Seay missed more than 40 hours of class time due to bereavement leave from the loss of his mother. But with the support and flexibility of the staff, instructors and commanders, Seay overcame the adversity.
"I stayed until 10 o'clock at night, and spent more than 16 hours on weekends making up the missed work," recalled Seay. "Everyone helped me and made it possible."
Seay went on to graduate from the Police Academy as a team leader in October of 2020. Shortly after, he was in the running to become an officer with three separate Ohio police departments and ultimately joined the Mt. Healthy Police Force in Cincinnati.
"I love it! I don't really feel like this is a job," said Seay. "I thrive on the unknown of every day."
Seay says that to him, being a police officer is more than just putting on the uniform, arresting bad guys, and enforcing the law.
"To me, it means collaborating with community leaders to build a stronger society. I have the opportunity to make a difference, especially with the youth. I really enjoy interacting with kids and providing them with good experiences with police officers. The types of experiences that I didn't have as a kid."
When asked what he would tell the next generation of police officers, he responds quickly.
"Do your research and have a plan."
When asked what he would say to police officers who came before him, particularly the late Sergeant Brian Dulle, for whom Seay was awarded a scholarship in his honor, he replies, "you can rest now, I'll carry the torch."