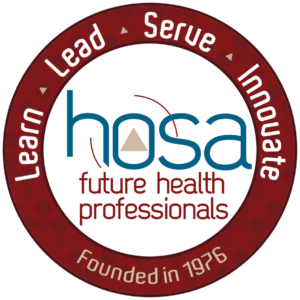 Congratulations to the Butler Tech students from Bioscience Center, Edgewood High School, Lakota East High School, Lakota West High School, and Northwest High School. These students will travel to the HOSA International Leadership Conference in Dallas, Texas this summer where they will compete against the best of the best.
HOSA's International Leadership Conference is the highlight of the year for every HOSA member and advisors and includes:
Competitive events focused on leadership, professional and technical skills
The annual business of the international student organization of HOSA by the voting delegates
Educational Seminars, Workshops & Exhibits presented by professional partners that provide Information about current healthcare issues
An opportunity to meet people from across the globe with similar career goals
Exciting general sessions providing recognition and opportunity for all HOSA members!
| | | | |
| --- | --- | --- | --- |
| Name | School | Category | Place |
| Mehek Bakali | LEHS | Public Health | 2 |
| Zeena Bayyari | LEHS | Public Health | 2 |
| Amisha Kejriwal | LEHS | Public Health | 2 |
| Natasha Kejriwal | LEHS | Public Health | 2 |
| Zoha Khan | LEHS | Public Health | 2 |
| Ellie Leininger | LEHS | Public Health | 2 |
| Karina Aslanyan | LEHS | Public Service Announcement | 1 |
| Abby Burghard | LEHS | Public Service Announcement | 1 |
| Anvi Patel | LEHS | Public Service Announcement | 1 |
| Kelsey Retzsch | LEHS | Public Service Announcement | 1 |
| Addison Burch | LEHS | Forensic Science | 3 |
| Makayla Griffin | LEHS | Forensic Science | 3 |
| Chloe Kime | LEHS | State Officer | |
| Ellie Brite | LWHS | Cert Skills | 3 |
| Zoe Miller | LWHS | Cert Skills | 3 |
| Arianna Strunk | LWHS | ATC Career Development | 2 |
| Carter Willbrand | LWHS | Clinical Lab Science | 3 |
| Lauren Nelson | LWHS | Anatomage | 3 |
| Camryn Broz | LWHS | Anatomage | 3 |
| Nicki Klosterman | LWHS | Anatomage | 3 |
| Will Allen | LWHS | Anatomage | |
| Elyes Hafidi | LWHS | Research Poster | 1 |
| Ishanvi Karthikeyan | LWHS | ATC Biology | 1 |
| Riya Patel | LWHS | Anatomage | |
| Abigail Wilson | LWHS | Anatomage | |
| Marie Gabrilovich | LWHS | Medical Law and Ethics | 1 |
| Natalie Mayer | LWHS | Biotechnology | 2 |
| Navya Dalal | LWHS | Mental Health Promotion | 2 |
| Samantha Kaldas | LWHS | Mental Health Promotion | 2 |
| Serena Kaldas | LWHS | Mental Health Promotion | 2 |
| Tram Cao | LWHS | ATC Math | 3 |
| Catherine Groznik | LWHS | ATC Physics | 2 |
| Sunitvir Taunque | LWHS | Anatomage | |
| Zahra WAsanwala | LWHS | Anatomage | |
| Keya Nevagi | LWHS | Anatomage | |
| Prithika Padmanabhan | LWHS | Anatomage | |
| Adriana Lanza | BSC | Home Health Aide | 1 |
| Parsina Tiwari | BSC | Family Medical Practice | 2 |
| Jay Patel | BSC | Anatomage | |
| Zura K | BSC | Anatomage | |
| Aissatou Deh | BSC | Anatomage | |
| Haylee Robinson | BSC | Anatomage | |
| JaNaysha Bailey | NWHS | Clinical Speciality | 1 |
| Lydia Herb | Edgewood | Behavioral Health | 3 |
| Sam Holtel | LEHS | Extemporaneous Writing | 2 |
| Hannah Huon | LEHS | CPR | 3 |
| Andrew Huon | LEHS | CPR | 3 |
| Avery Davis | LEHS | Mental Health Promotion | 3 |
| Will Hamad | LEHS | Mental Health Promotion | 3 |
| Lainey Hill | LEHS | Mental Health Promotion | 3 |
| Kiera Ming | LEHS | Mental Health Promotion | 3 |
| Jaelyn Huhyn | LEHS | Mental Health Promotion | 3 |
| Kennedy Emerson | LEHS | Mental Health Promotion | 3 |
| Abby Theobold | LEHS | Research Poster | 2 |