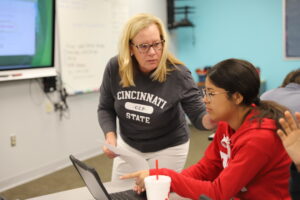 Butler Tech's new Business program is off to a strong start this school year.  The two-year pathway is project-based for students who want to learn fundamental business concepts and obtain knowledge and skills in business processes, economics, and relationships.
The program combines college-like instruction with hands-on activities to prepare students to be competitive in the global economy. During the two-year program, students can earn anywhere between 9-24 college credits through a variety of courses that can be personalized to their ability levels through a partnership with Cincinnati State. This College Credit Plus opportunity will put them well on their way to earning either the Business Pathways Certificate or Entrepreneurship Certificate.
"The Business program is a vehicle to assist students as they learn and grow," shared Matt Taske, the instructor for the program.  "Ideally, students will recognize if they will be an entrepreneur, small business owner, or employee. We are providing students experiences they have never experienced within a classroom, including giving them the opportunity to design our classroom, manage the budget, and lead discussions."
Courses include business law, entrepreneurship, financial accounting, introduction to management, introduction to marketing, microeconomics, and programming foundations.
Maritza Rivas Sanchez, a junior from Fairfield High School, chose the Butler Tech Business program and plans to attend college for marketing or accounting after Butler Tech, both fields where she feels there will be numerous opportunities for growth and advancement.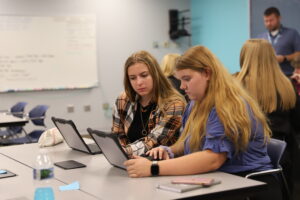 "I am really enjoying the program and learning all kinds of different things in the business field," shared Rivas Sanchez, "One of the most challenging things I've faced so far is having to be creative. I like to keep things simple and straightforward. If I am asked to do something, I do it. But when asked to think outside the box, I struggle a bit. So, getting out of my comfort zone is good! It's training me to be more versatile."
In addition to the two-year Business pathway, Butler Tech also launched the Early Business/Information Technology (BIT) pathway. BIT is specifically for sophomores who already know they are destined for a career in business or information technology. These students also take foundational courses in partnership with Cincinnati State, earning up to 9 college credits their sophomore year, and will automatically matriculate into Business or Information Technology as juniors to finish their final two years in the focused career pathway of their choice.