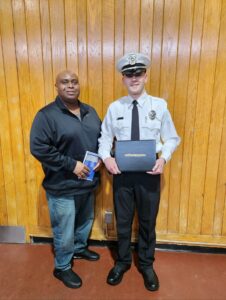 Alumni Spotlight: Brady Huffman
Program: Criminal Justice
Class of 2019
Hamilton Police Officer, Brady Huffman, always wanted to be in law enforcement.  In 2017, he chose the Butler Tech Criminal Justice program to begin his journey, where he believes the leadership skills and opportunities gained during the program set his experience apart.
"During my time at Butler Tech," shared Huffman, "I knew that I was being prepared for an amazing career in the field that I wanted. But I had to prove to myself through hard work that I could do it."
That opportunity first came during his senior year when Commander Fitzgerald approached Huffman about taking on a leadership role within the program. Based on the hard work he had seen from the young cadet during his junior year, Huffman was named class sergeant.
"I was speechless, but of course accepted his offer!" recalled Huffman.
As the year progressed and Huffman continued to grow his leadership skills, he also helped to implement the Butler Tech Honor Guard to represent the colors at graduation, special events, and games and was quickly named the Commander of the Butler Tech Honor Guard.
"Brady showed a passion for law enforcement," shared Commander Fitzgerald on choosing Huffman to serve in the leadership roles.  "He was always eager to learn and cared about people. He earned the respect of his classmates and had natural leadership abilities!"
After graduation, Huffman continued on his path at Hocking College where he received an associate's degree in Natural Resources Law Enforcement and now serves the City of Hamilton as a police officer. He and Commander Fitzgerald remain close and stayed in contact through college, job opportunities, hiring processes, and Huffman's graduation from the Police Academy.
"Butler Tech and Commander Fitzgerald made an impact on me by pushing me and supporting me. I know now that if you want to do something, you can do anything you put your mind to. Butler Tech helped me realize that," said Huffman.