Alumni Spotlight: Cameron Davey
Class of 2017
Program: Project SEARCH – West Chester Hospital
Cameron Davey began his Butler Tech story as a Project SEARCH Intern at the West Chester Hospital in the fall of 2016. Project SEARCH is a school-to-work program for students with disabilities and is designed to provide job training instruction and skill development for competitive employment. Cameron has achieved his employment goals and beyond, recently being honored by Easterseals Serving Greater Cincinnati as the 2021 Brighter Futures "Independence Awardee" in recognition of taking on a new challenge and achieving a life goal.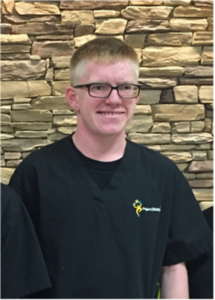 At the completion of his time with Project SEARCH, Cameron interviewed and earned his dream job working at Kroger where he still works today. Additionally, Cameron has gained independence by moving out on his own and adopting a cat he named Kiki.
"Now I have my own place and now I have my own rules," shared Cameron. "It feels nice, just to be like, me. Me! Just me!"
"I had Cameron Davey on my caseload when he was a Freshman at Fairfield," shared Butler Tech Intervention Specialist, Josh Erb.  "Like anyone who ever had the pleasure of working with Cameron he is one of my all-time favorites.  I am so happy that he was able to find Butler Tech's Project SEARCH program."
As part of the honor, Cameron was interviewed for the Brighter Futures segment featured below.
"After watching Cameron last night, it is so very evident how Project SEARCH and all of our partner organizations transform our interns' lives," said Mollie McIntosh, Project SEARCH Instructor at West Chester Hospital.  "Cameron is only one of 98 interns who have been fortunate enough to be a part of Project SEARCH-West Chester Hospital throughout the last 9 years. This is just one program, just think of all of the interns from all 7 Butler Tech transition programs over the past 16 years!"
To view more about Cameron's story, watch Easterseals Serving Greater Cincinnati's Brighter Futures Celebration. Cameron is highlighted from approximately minute 10:50 – 15:40.