Alumni Spotlight: Matthew Wood
Program: Digital Media
Class of 2014
From an early age Matthew Wood was passionate about creating videos and digital content, so making the decision to attend Butler Tech for Digital Media was a natural progression and an opportunity for him to learn and grow.
"Being at Butler Tech was the most rewarding two years of my entire time in school," shared Wood, who is now a Production Technician for Virginia Public Media/WCVE-TV.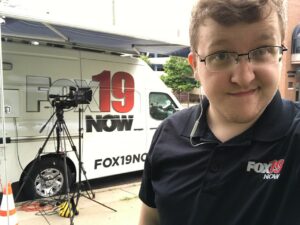 Wood shared that the program provided him with not only the skills to properly shoot and edit videos but the industry terminology to work in the field, and perhaps most importantly how to work as a team.
"It was an important lesson to learn that with great power comes great responsibility," said Wood. "I quickly learned what methods did and didn't work for various projects and it helped me to broaden my skills."
As a Production Technician Wood is responsible for everything from camera operation, audio, graphics, operating the video switcher, and more. His work, which has been televised regionally and nationally, includes special productions such as coverage of the Inauguration of the 74th Governor of Virginia, the Poetry Out Loud Virginia State Finals, and The Old Dominion Barn Dance. Wood is also a multiple-time award winner including Best Videographer by both the Cincinnati and Ohio chapters of the Society of Professional Journalists. He was also recognized for his coverage of the demonstrations following the murder of George Floyd as the Best Crisis Coverage of the year in 2020.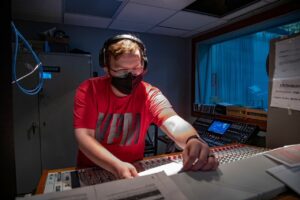 Wood certainly credits his education at Butler Tech as making a huge impact on his career and says that having the Digital Media program and evidence of those two years of experience in high school truly set him apart when interviewing for positions.
"I was fortunate enough to be hired by WXIX-TV as a production assistant while I was still in college," shared Wood. "I definitely wouldn't have been as prepared for a professional career in television without Butler Tech. It gave me a lot of the most necessary skills and knowledge to help me stand out when trying to get my first job in the industry."
"I'm beyond grateful for my time at Butler Tech, it truly set me up for my career."