Congratulations to our Healthcare Science Seniors from the Bioscience Center who earned a 100% pass rate on their State Tested Nurse Aide exam as well as 100% pass rate on the Patient-Centered Care and Diagnosis Webxam!
"I am really proud of these students!" shared Sally Munchen, Healthcare Science Instructor, "they come to class every day ready to work, and they take their role as future healthcare professionals very seriously."
Dr. Cook echoed her pride in the group and the level of care that the students have shown to earn their STNA while in high school.
"These students are able to go straight into the workforce, or continue their education while gaining valuable experiences!"
Congratulations to our students and their amazing teacher Mrs. Muenchen!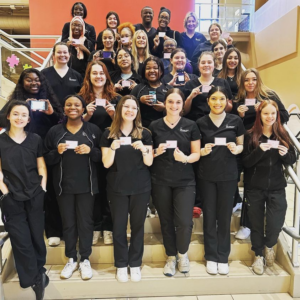 Bottom Row Left to Right: Elizabeth Anderson, Jaida Peppers, Lilly Hensley, Taylor Smith, Laini Lemus, Kiylee Williams
2nd Row L to R: Kara Sengka, Karli Schrader, Alliyah Newsome, Georgia Ely, Annabell Sickles
3rd Row L to R: Morgan Frank, Maribel Valentin, Ellyn Randolph, Adriyana Lanza
4th Row L to R: Aissatou Deh, Ariel Sanchez, My'Layah Threets, Carly Strahm, Leah Grant, Shannon Jelliffe
Back Row L to R: Salla Seck, Alexandra Harvey, Trey Metcalf,  Jalaya Parson, Madison Galvan, Kirsten McDaniel
Not Pictured: Linda Hambrick, Melanie Heldman, Aunaysia Poellnitz, Alaina Steele, Ragan Whitaker, Jaelyn Adams, McKenzie Moats