Fifth Day Experiences often enhance a student's learning through personal skill attainment; however, a dedicated group of Butler Tech students is using those skills to serve others through philanthropy.
BT Serves! is a dedicated group of students and two teachers who have devoted their Friday experiences to serving the community in partnership with three carefully vetted organizations: The Healing Center, SELF, and Cinderella's Closet. Each non-profit was chosen as a partner due to the relatability of its mission for high school students.
The Healing Center provides services such as clothing and food but also focuses on fostering growth through education, health and wellness assistance, and community resource connections. SELF, Supports to Encourage Low-Income Families, helps hard-working individuals by impacting the causes of poverty, and empowers individuals to achieve, sustain, and advocate self-sufficiency. And Cinderella's Closet, perhaps the most specific mission, helps high school girls recognize their beauty and value by providing prom dresses and accessories for girls in need.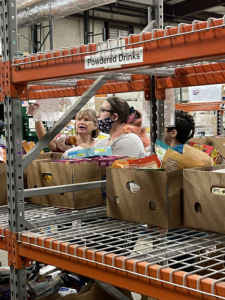 "We developed this Fifth Day Experience and chose these organizations with the intention of creating deep relationships where our students can serve over and over again," shared Brandi Robertson, BT Serves! Co-Facilitator and Language Arts Instructor. "We want them to gain a sense of comfort and belonging both to the group and the non-profit with the hope that they build relationships and trust through serving others."
Although all three organizations provide different services, they all allow our Butler Tech students to utilize their passions and skills to set people on a path to thrive. The students will experience anything from hospitality, sorting, stocking, building, and repairs, playing games, to just spending time with others.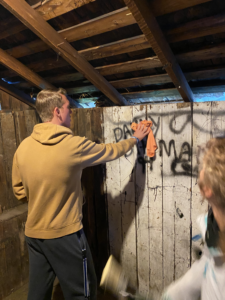 Malachi Anderson, a junior in the Mechatronics program, shared that he decided to join the group initially because of Katie Frankey, BT Serves! Co-Facilitator and Language Arts Instructor.
"I really enjoy having her as my English teacher and her love for people and her students is inspiring," shared Malachi.
It appears that Frankey is as passionate about the service rendered as the influence this will have on the student volunteers as well.
"I want BT Serves! to not only serve our local communities but to open my students' eyes to how impactful their service is and how they can change the world through servings," said Frankey. "Our students have such amazing hearts and I want them to have an outlet to show that."
Malachi seems to have already seen the impact, "My biggest takeaway is that I can choose to live my life in a way that benefits other people, instead of just looking out for myself. When I went to the Healing Center, I saw people who use their whole lives to help others, and it was very eye-opening to see."
BT Serves! will continue to serve each Fifth Day Experience on Fridays throughout the school year.