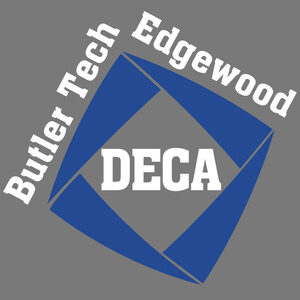 The Butler Tech students represented well at the Ohio DECA District 4 Career Development Conference on January 24, 2023. Several students advanced to the Ohio DECA Career Development Conference in Columbus on March 10-12, 2023.
First Place:
Evan Hulshult & Sam Banks, Innovation Plan
Kaitlyn Johns, Principles of Finance
Second Place:
Hailey Allen, Hotel and Lodging Management Series
Rylan Brown, Marketing Communication Series
Garrett Beckman, Personal Financial Literacy
Josie Henderson, Principles of Business Management and Administration
Samuel Besingi, Restaurant, and Food Service Management Series
Kurt Browning, Business Services Marketing Series
Third Place:
Gavin Arellano, Accounting Applications Series
Peyton Smith, Business Finance Series
Aiden Reece, Principles of Finance
Savanna Huddleson, Principles of Hospitality and Tourism
Hayden Honchul, Quick Service Restaurant Management Series
Luke Halsey and Mason Stover, Hospitality Services Team
Isaac Rosenfelder and Solomon Rothermel, Financial Services Team
Maura Young, Human Resources Management Series
Cate Cochran, Retail Merchandising Series
Kaely Dinn, Phillip Johnson, Camryn Stewart, Innovation Plan
Fourth Place:
Trent Stewart, Accounting Applications Series
Damien Cheeseman, Automotive Services Marketing Series
Cynthia Justice, Entrepreneurship Series
Maddie Webb and Kaylynn Spencer, Hospitality Services Team
Maggie Henderson, Human Resources Management Team
DECA prepares emerging leaders and entrepreneurs for careers in marketing, finance, hospitality, and management in high schools and colleges around the globe. There are currently 218,177 high school members in 3,645 chapters across the country.