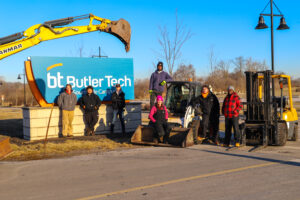 When Duke Energy and other area utility companies shared their need for utility pipeline technicians, Butler Tech met the challenge and created the curriculum, and launched the pilot class of Utility Pipeline Technicians in November 2023.   Credentials earned in this six-month program include Commercial Driver's License Class A and Pipeline Installer and various skills such as heavy equipment excavation, maintenance welding, pipeline installation and repair, underground utilities, electrical and mechanical systems, and industry regulations. These skills will allow graduates of the program to become prime candidates for careers in operations such as storm and sanitary sewer, natural gas, telephone and water, technicians and operators with CDL, equipment operators, welding, electrical, mechanical, and utility pipeline-related trade skills.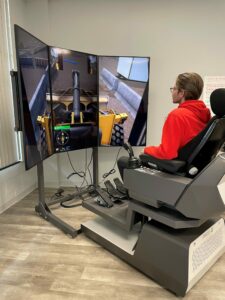 In the short time since the pilot class began, the program has been approved by Butler Tech Adult Education's accrediting body COE. It is now eligible for FAFSA funding allowing prospective students to apply for federal financial aid including the Pell grant and grant money through OhioMeansJobs and EasterSeals.  Duke Energy has also been generous in providing $5,000 scholarships for students and has two additional Duke Energy Foundation scholarships available for those enrolling in the upcoming class beginning April 3, 2023. Another exciting addition to the program is the heavy equipment operations simulator that is now installed and ready to enhance our students' skills with state-of-the-art technology, preparing them to operate equipment in real-world scenarios.
Interested students should visit www.butlertech.org or contact Dennis Beam, Butler Tech Director of Business & Industry Technology programs at beamd@butlertech.org.