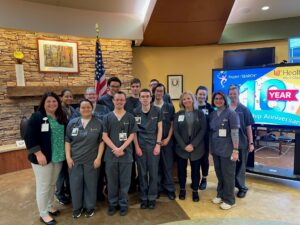 Butler Tech Project SEARCH at West Chester Hospital – UC Health celebrates 10 years of partnership! 
In 2013, Project SEARCH, a school-to-work program for students with disabilities, embarked on a journey at West Chester Hospital to provide entry-level work experiences in a hospital setting for young adults. Now, more than 110 Project SEARCH Interns, and 330 job rotations later, the two organizations agree that the success of the collaboration has exceeded expectations.
"The impact that the Project SEARCH Interns provide our department is immediate and felt each and every day," shared Brian Reining, Manager of the Emergency Department at West Chester Hospital. "Their work and presence provide a ton of value, not only value in the ED, but once they leave and make an impact on the community."
Each Intern completes three job rotations at West Chester Hospital throughout the year, each allowing the student to experience different areas of the hospital, learn various skills, and encounter new people and coworkers. The primary focus of the program is to provide specific job training and skill development that will prepare them for competitive employment at the end of the program.
Tom Giglio, Manager of Imaging at West Chester expressed how impressed he has been over the years as he watches the Interns develop and grow.
"Everyone has abilities and we are able to put those abilities to work!" said Giglio. "Working with Project SEARCH is such a rewarding part of our jobs."
Mollie McIntosh, the Instructor of Project SEARCH at West Chester Hospital has been part of the partnership since the planning phase. She has personally worked with all of the Interns who have gone through the program at West Chester Hospital and boasts that the job placement rate for Interns in her program is 90%. The national average of job placement for individuals with disabilities who don't participate in a transition program like Project SEARCH is less than 25%.
"The collaboration between Butler Tech-Project SEARCH and West Chester Hospital is simply amazing!" shared McIntosh. "The opportunity the hospital provides the interns goes well behind basic employment skills.  West Chester Hospital, gives the interns a sense of belonging.  We see our interns transform from high school students to independent young adults.  These young adults leave our program with work and independent living skills that allow them to live a dignified life after school."
In addition to the benefits seen at West Chester Hospital, the surrounding communities also recognize the value Project SEARCH makes in the local area. The West Chester Liberty Chamber, Mason Deerfield Chamber, West Chester Township, Liberty Township, and the City of Mason all issued Project SEARCH at West Chester Hospital proclamations to honor and highlight the ten-year partnership and its impact on the community and individuals involved.
Tom Daskalakis, CAO of West Chester Hospital, shared high praise and his own pride in the program and collaboration over the course of a decade.
"I know that I speak for everyone at West Chester Hospital when I say what an honor it is to work with these young people as they learn jobs within the hospital that ultimately will help them secure work within the community," said Tom Daskalakis, chief administrative officer. "While we know that the interns benefit from our partnership, it is our hospital staff who benefits more from the relationships we build with them. These kids are hard workers and truly support our teams. It is so gratifying to get to know them and see them flourish. We are most grateful for this wonderful partnership and we look forward to another decade with Project Search!"