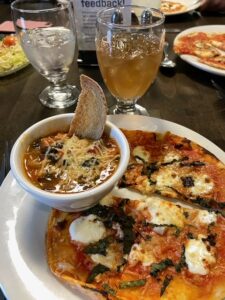 In the spring, Café Lee opens for lunch on Wednesdays and Thursdays and boasts a unique menu created, prepped, prepared, and served by the Culinary Arts students at the Fairfield Township Campus. This year, the café has a fresh new look with updated décor featuring bright new colors and furnishings for an enjoyable dining experience.  Chef Tyler Simpson, Culinary Arts Instructor, is thrilled with the update and already feels that it makes the space more welcoming and modern.
Each week, the restaurant is run by one to two senior students and supported by their classmates from planning to execution. The Culinary Arts program, named one of the top 50 programs in the nation, makes all menu items from scratch including their sauces and bread.
"The first two weeks have gone really well and the support of the restaurant and program have been overwhelming," shared Chef Simpson.  "The high business levels help create the real-world atmosphere we strive to recreate.  It also keeps the students on their toes from the time we start prep on Monday morning until we close on Thursday afternoon."
Junior, Allana Gadrow, from Ross High School, is already looking forward to next year when she gets the opportunity to run the show.
"I'm so excited about running the Cafe next year. I've dreamed of being a Chef since I was young and being able to be a Chef in 'my own' restaurant for a bit is unbelievably exciting."
Café Lee is just one real-world application for these students. Butler Tech's culinary program consistently serves more than sixty catered community events each school year, most of which are voluntary for the students and often occur in the evenings and on weekends. Outside the restaurant, the juniors and seniors manage the Bistro Bus food truck at numerous festivals and events and compete at the state and national levels in culinary competitions throughout the year.
Visit Café Lee at the D. Russel Lee Building on the Fairfield Township Campus, 3603 Hamilton Middletown Road, Fairfield Township, Ohio 45011