More than 85 Criminal Justice students from Colerain and Northwest had a unique opportunity to learn about a diverse range of legal professions by hearing directly from local judges, public defenders, and attorneys. Hailing from Hamilton County Juvenile Court and the United States Court of Appeals, the students and Butler Tech/Colerain Criminal Justice and Forensics Instructor, Sergeant Jeremiah Morgan, hosted a half dozen of what Morgan referred to as the court system "Avengers."
"We are extremely lucky to be able to host so many of the top legal representatives from the court system," shared Morgan. "We are very thankful that they would take time from their busy schedules to talk to our students."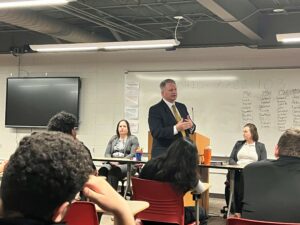 The visiting court system "Avengers" included Judge Kari Bloom, Hamilton County Juvenile Court, Magistrate Carla Guenthner and Magistrate Mark Reed, both of Hamilton County Juvenile Court, Caitlin Burgess, Hamilton County Public Defender Office/Juvenile Division Team Lead, Brenda Gallagher, retired U.S. Court of Appeals Staff Attorney, and Lydia Ansermet, current U.S. Court of Appeals Staff Attorney.
"As a criminal justice student, many of us think about going into these professions in the court system but we are limited to a certain amount of information and I feel that it's important to hear from the professionals because they are experienced," shared senior Criminal Justice Cadet, Cardae Lane. "These professionals gave us a firsthand view of these jobs in the court system and what to expect if we choose to go through with pursuing these careers."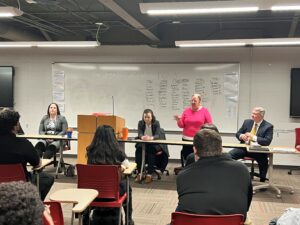 Each of the visitors shared their story of how they arrived in their current position, focusing on the beliefs, upbringing, and educational paths that guided them. Advice included weighing life-work balance as a factor when choosing a career path and being careful not to burn any bridges along the way, as those connections are incredibly important.
Senior Cardae Lane, who recently joined the United States Airforce and has also been accepted to the University of Cincinnati, felt that he took good advice away from the presentations.
"One piece of advice that stuck out to me was Magistrate Reed saying to get involved with at least three types of organizations, those being a political group, a religious group, and a group looking to better society," shared Lane. "I feel that this information not only helps you personally but opens up many opportunities for you as a person who is still growing and learning."