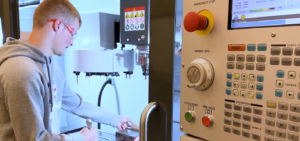 Thanks to a grant from the Hamilton Community Foundation, the Butler Tech Diversified Engineering program at Hamilton recently purchased a Haas TM-2 Mill for the classroom. The state-of-the-art equipment allows our students to operate machinery that is used in the industry as well as prepare for and earn credentials such as the CNC Mill Operator certificate.
The grant was written in partnership with Hamilton employers who need people ready to operate these types of machines. Therefore, the language of the grant focused on preparing students to be workforce ready, matching the needs of employers in Hamilton and the interest of students at Hamilton High School.
"I am interested in reaching out to students who are considering post-secondary education in engineering," explained Kyle Jones, the instructor of the Diversified Engineering program.  "It is an invaluable experience for these students to have the full experience of moving through the engineering design principles while using real equipment that they will see in the field."
The grant was submitted in the unrestricted category specific to supporting non-profit organizations throughout Hamilton.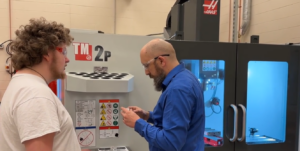 "We are hearing great things from the engineering program collaboration between Butler Tech and Hamilton High School," says John Guidugli, President and CEO of the Hamilton Community Foundation. "Knowing that students' options are increasing because of equipment that we helped purchase is the kind of feedback that makes what we do gratifying."