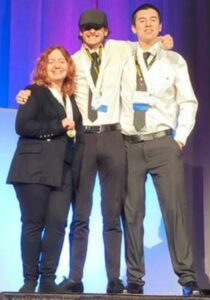 One year ago, Butler Tech Precision Machining students attended the Ohio SkillsUSA State Championship as spectators. They watched as competitors from across the state competed for the title of best in Ohio in their respective career fields, and they collectively set a goal to be standing on the podium themselves in 2023.
Their hard work began in the fall of 2022 when they not only made the commitment to compete but shared a pitch for the required materials needed to create a mobile tabletop manufacturing machine necessary to compete in the 2023 SkillsUSA CNC Machining competitions.  The students developed a tiered sponsorship opportunity for the manufacturing business partners of the Precision Machining Business Advisory Council requesting equipment and/or monetary donations necessary to purchase the items needed. The fundraising goal of nearly $20,000 was quickly met by local manufacturing partners.
One donor, Stand Aero, was eager to get involved and help the students reach the competition.
"For a successful partnership between Standard Aero and Butler Tech," said Drew Mullins, Senior Manager of Operations, "we feel that both sides give, and both sides receive. Anything we can do to support the program is mutually beneficial. Butler Tech is producing the future manufacturing personnel for our industry and our payback is an investment in those people that our industry so desperately needs."
In May, that investment paid off when the team consisting of Dianna Conner, Nick Alexander, and Josh Warren won first place in the Automated Manufacturing Technology category at the state championships! The trio will represent Ohio at the SkillsUSA National Leadership and Skills Conference in Atlanta, Georgia this summer with more than 19,000 students, teachers, and business partners expected to attend.
Best of luck to our Butler Tech Automated Manufacturing Technology Team!