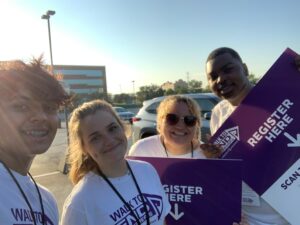 Every year, the Alzheimer's Association Walk to End Alzheimer's takes place in over 600 communities nationwide — an effort that could not be done without the help of dedicated Walk day volunteers, and this year, students from our Bioscience Center joined instructor, Lisa von Haefen, in the efforts.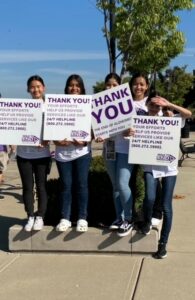 "I have been participating in the Walk to End Alzheimer's for about 5 years," said von Haefen. "In 2019, I reached out to the local chapter and offered to bring students to help with the walk when it was at Voice of America in West Chester.  It was a great success and I planned to do it again last year, but the walk was reimagined and became a "virtual" event.  When the event was announced this year, I knew that I was going to volunteer and wanted to offer the experience to students again."
Von Haefen's mother was officially diagnosed with Alzheimer's in 2012 and sadly passed away from the disease on September 17, 2020.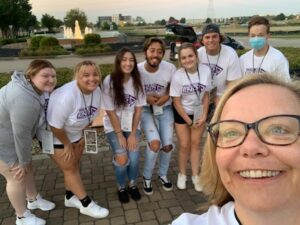 "The Alzheimer's Association of Greater Cincinnati provides vital programs for patients and families who are dealing with this devastating disease," explained von Haefen. "I know my family relied on the guidance and support of the local and national chapters many times as we cared for my mother."
The Bioscience student participants, all of whom are interested in future careers in healthcare, helped with event set up, registration and check-in, booths, advocacy efforts, cheerleading, and more! The event proved to be an amazing opportunity to interact with the community, learn about a disease that before COVID was the 5th leading cause of death in the United States, and gain volunteer experience.
"For myself, it is a way to honor my mother and support the many families who are navigating an unwinnable battle against a devastating disease.  I want to support others like my family was.  It is a passion of mine and I hope it makes a difference to just one person – one family," shared von Haefen.