"JEE Foods is a high school student-powered nonprofit organization striving to end both hunger and poverty through food rescue. Our team is committed to addressing the need of those who are hungry, but we are also taking on the core factors that cause these problems in the first place." –  jeefoods.org
For the third straight year, JEE Foods competed in the national and World Cup SAGE competitions! In this year's SAGE USA virtual competition, JEE Foods was selected as the top teen entrepreneurs in the nation, qualifying them as one of two teams eligible to compete for SAGE World Cup where they placed second out of more than 40 teams.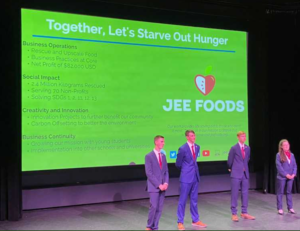 "I see SAGE not only as a competition but as a way to bring global attention to student entrepreneurship and global issues," explained Levi Grimm, JEE Foods' Marketing Director. "It is inspiring to be competing against other students who have each made a large impact in their community. During the competition, there's a moment of realization that I'm not just representing my school and competing against local rivals, but we are competing against people in different countries and are representing the United States. It's an amazing feeling. I don't see placing 2nd as a peak for JEE Foods, but rather an accomplishment that we will use as motivation to continue working towards ending hunger and poverty across the globe."
"JEE Foods has worked tirelessly through the pandemic to continue to provide quality, nutritious food products to families in need. While coping with a school year that was certainly unconventional and CDC rules and regulations, they worked diligently to complete their mission, and they did it with style, grace, and empathy," shared Butler Tech/Ross Information Technology instructor, Tom O'Neill.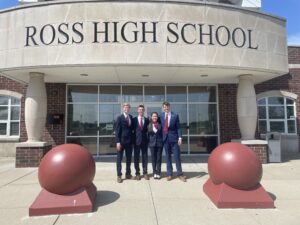 Meet the JEE Foods' presenters:
Name: Alayna Meade
Grade: 12th, Senior
Years working with JEE Foods: 3 years
Plans for the future: After high school, I plan to attend college to study neuroscience and biology.
"In JEE Foods, I've had the opportunity to attend student entrepreneurship competitions in Pennsylvania, through the AdCap Challenge, as well as the 2019 SAGE National and Global competitions, held in San Francisco, California. Outside of JEE, I'm a part of numerous extra circular activities, including 4H, Theatre, and National Honor Society, where I've taken an active role in bettering our community through service."
Name: Gus LaValle
Grade: 11th, Junior
Years working with Jee Foods: 3 years
Plans for the future: I plan to graduate high school and attend college where I hope to major in a STEM-oriented field such as mechanical engineering. I plan to use the extensive business and people skills I have learned through volunteering with JEE Foods to increase my employability and abilities in my future career.
"I am/have been involved in Marching Band, JEE Foods, Choir, National Honor Society, Academic Team, Volunteer Advisory Board, History Club, Tennis, and Student Council. Competing in SAGE and placing second among 40 teams from 29+ countries from all over the world is one of the biggest accomplishments so far in my life, I would say. I am honored to have been able to represent the United States on the global stage and ecstatic that we did so well. While it definitely would have been even better if everything was normal and we were able to travel to Dubai to compete in person instead of online due to Covid, SAGE was still a spectacular experience and I am grateful to have been a part of it."
Name: Levi Grimm
Grade: A recent Butler Tech and Ross High School graduate currently studying Business at Miami University as a freshman.
Years working with Jee Foods: 4 years
Plans for the future: Since graduating, I have decided to continue pursuing my education at Miami University in Oxford, Ohio studying business management and entrepreneurship. JEE Foods exposed me to the social enterprise space, and I can't picture doing something different that doesn't positively affect others. I hope to one day lead social responsibility for a company/organization.
"Outside of JEE Foods I am heavily involved in other business-related organizations and CTSO's including DECA and Business Professionals of America. In DECA was awarded first at the International Career Development Conference in my event. Outside of this I also served on the Hamilton Youth Philanthropy Board and 17 Strong City Revitalization Communications Board."
 Name: John Kahmann
Grade: 11th, Junior
Years working with JEE Foods: 2 years
Plans for the future: I plan to continue working with JEE and start heading towards more large distribution. This will help us get more food for those who need it.
"SAGE, Student for the Advancement of Global Entrepreneurship, is an international network dedicated to creating the next generation of entrepreneurial leaders whose innovations and social enterprises address our world's major unmet needs." – sageglobal.org