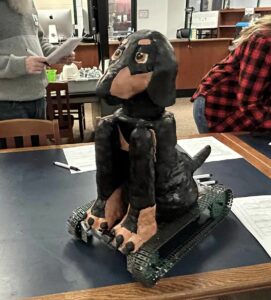 Butler Tech Baking and Pastry Arts and Engineering Essentials students at Madison High School recently tapped into their creativity and talent with a co-curricular project inspired by an episode of "Baking Impossible" on Netflix. The reality show features contestants with a challenge that combines baking with engineering, coined "bakineering."
Baking students were paired with an engineering student to design an edible robot that would ultimately complete an obstacle course! The robot had to have a modular base and at least one moveable element. All other elements of the robot had to be edible with the choice of using scrumptious options such as crispy rice treats, cake, pastries, icing, fondant, modeling chocolate, and gum paste.
"This project was used as a work-based learning experience for our students," explained Krystal Yeager, Family & Consumer Sciences instructor. "We wanted to do something that was memorable, fun, and outside the box for the end of the quarter!"
The ultimate goals of the project were creative thinking, teamwork, communication, cake and technology production, specialty cake decoration, and keeping up with industry trends.
"I really think the students rose to the challenge," said Yeager. "Many of the creations made it through the course…with some help…and all of the cakes were edible and looked great!"
Top Score: Brooklyn Barger
2nd High Score: Ethan Clay
3rd High Score: Red Team 4 consisting of Allegra Arevalo, Michael Ingle, Haleigh Paris, Isabel Campbell, and Engineer, Noah Wallace