Most Butler Tech students used their fall break to relax and recharge. But a group of student leaders in the Precision Machining program used their time to present a fundraising goal of nearly $20,000 to local manufacturing partners.
Josh Warren, Niyona Coleman, Diana Conner, Nicholas Alexander, Nolen Wagers, Luke Vidourek,  and Alex Pena, all team members of their SkillsUSA chapter, shared a pitch for the required materials needed to create a mobile table-top manufacturing machine necessary to compete in the 2023 SkillsUSA CNC Machining competitions.  The students developed a tiered sponsorship opportunity for the manufacturing business partners of the Precision Machining Business Advisory Council. Their request is for equipment and/or monetary donations necessary to purchase the items needed.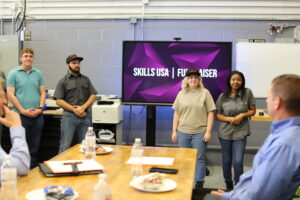 Drew Mullins, Senior Manager of Operations at Standard Aero, attended the presentation and was eager to take the sponsorship opportunity back to his company.
"For a successful partnership between Standard Aero and Butler Tech," said Mullins, "we feel that both sides give, and both sides receive. Anything we can do to support the program is mutually beneficial. Butler Tech is producing the future manufacturing personnel for our industry and our payback is an investment in those people that our industry so desperately needs."
Other manufacturing business partners in attendance included Feintool, General Tool Company, Hi-Tek, Haas, Valco-Melton, Monti Inc., Rhinestahl, Machintek, StandardAero, and Integra Life.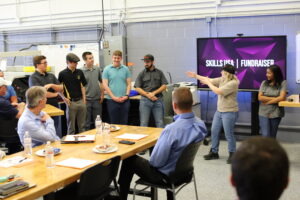 Pending the students reaching their fundraising target, their plan is to compete in the Automated Manufacturing Technology category as a 3-person team. This challenge will showcase their skills in Computer-Aided Design (CAD), Computer Aided Manufacturing (CAM), and CNC operations. Individual students will also compete in CNC Milling, CNC Turing, and CNC Technician.
"Manufacturing is a deep and complex field of work," shared senior and SkillsUSA Treasurer, Nicholas Alexander. "There are so many things to do in this field that is not just button pushing. I hope by competing we can document and expand on that."
The entire team is looking forward to proving their machining skills and hopes that they qualify to compete at the state and national level, allowing them to include their accomplishments on their resumes for scholarships and job opportunities.
"I think the opportunity to compete this year would be a great experience and a good way to show everything we have learned," said Niyona Coleman, senior and Vice President of the team.
Coleman also shared that she has already learned the importance of all of the team members working together and being open and understanding with one another during the planning process for the fundraising portion of the journey.