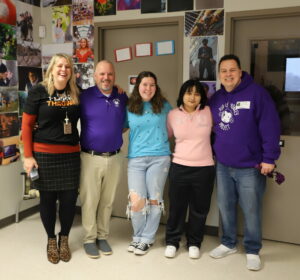 Three Digital Media seniors, Alyssa Wells, Gabby Back, and Reesa Phouny, recently filmed and edited a video for the Purple Monkey Project, a local non-profit that supports youth by providing financial aid for extra-curricular activities, scholarships, and more. The Purple Monkey Project is named after Reagan, a young girl who lost her life in an accident in May of 2021.
The video debuted at a fundraising event for the Purple Monkey Project last November called Reagan's Mic Drop Lip Sync Battle.
"It was absolutely perfect, and the three students did a GREAT job on it," shared Brad Vanoss, CEO of Purple Monkey Project.
Ultimately, the Purple Monkey Project decided that they wanted to provide a scholarship for each of the students in appreciation for their work on the film. Each girl was awarded a $500 scholarship to be used toward their future plans.