Students from the Butler Tech School of the Arts' Probability and Statistics course recently collaborated with Magnified Giving, an organization that teaches philanthropy to students. Together, they awarded two, one thousand dollar grants to local non-profits of their choice.
Using a Magnified Giving tool called the LENS, Mrs. Powers' Probability and Statistics students were asked to take a deep dive into the quantitative and qualitative data on several local non-profits of their choice and then respond to prompts to rate their accountability and transparency as displayed on their website and through other outside sources. Students ultimately generated a rating through a programmed Microsoft Excel spreadsheet, where they entered values about each non-profit organization according to their analysis of the data found.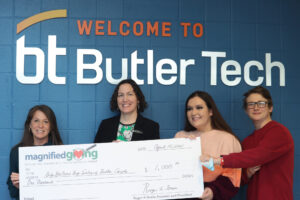 "This project provided a perfect connection to the Stats classroom!" explained Powers. "Not only does it engage students in the applications of statistics, but it engages their hearts as well."
After analyzing the data, the students narrowed down the choices from dozens of charities to five. Then working in collaboration with the Digital Media students, they created videos representing the finalists that were viewed and voted on by the students. In the end, the students chose Inside Out Studio and Big Brothers Big Sisters to receive the grants.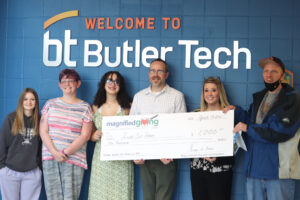 "One of the overarching goals of the course is for students to walk away with an understanding of the applications of statistics in the real world, that as lifelong learners, they are aware of the impact that data has on their daily lives," said Powers.
The project culmination was a check presentation where representatives from Inside Out Studios, Big Brothers Big Sisters and Magnified Giving came together with the students to celebrate the hard work of these organizations and the impact students can have through philanthropy.
For more information:
Big Brothers Big Sisters – Butler County