"Learning is an active process. We learn by doing. Only knowledge that is used sticks in your mind," Dale Carnegie, American writer, and lecturer.
Butler Tech instrumentalists and vocalists put their knowledge to the test recently when they planned, produced, and executed an entirely student-led concert in downtown Hamilton called, The Downtown Show. Student producers, Damien Stempfley, Azriel O'Malley, Ray Phillips, Victoria Marx, Lainey Hall, and Olivia Melbye began the project by first seeking a venue to hold the concert. They worked through a list of possibilities and ultimately chose ArtSpace Hamilton. ArtSpace is actually a nonprofit arts organization specializing in creating, owning, and operating affordable spaces for artists and creative businesses. The venue in downtown Hamilton includes apartments for artists and their families, working artist studios, art centers, commercial space for arts-friendly businesses, and other projects such as this show.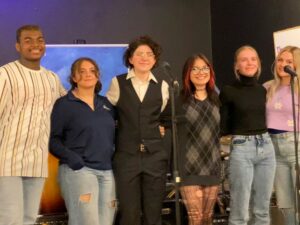 "We looked at a couple of venues, but when we came across the ArtSpace, the vibes we're perfect!" shared Ray Phillips, School of the Arts Student Producer.
Once the location was secured, the student producers began working through setlists, auditions of their fellow peers, rehearsals, and even marketing the show!
"My role was mainly to get emails out to the performers about any updates related to the show," said Damien Stempfley. "The biggest issue was honestly getting everyone together for practices and rehearsals since this was outside of the normal everyday classwork we do at SOA. This made all of the student producers pretty anxious as we never really heard the full finished show until a few days before the event."
Zach Gabbard, Instrumental Instructor at SOA shared his thoughts on standing back and allowing the students to take the reigns on such a big performance.
"Nothing makes me more proud than seeing my students showcasing their craft outside of our school environment. It's wonderful to see them working together and using the skills they have learned to bring the joy of music to our community," said Gabbard.
"I'm very proud of the work that everyone put into the show," said Damien. "The finished show came out amazing due to everyone working together and communicating. As this was something new for everyone involved, I'm pretty impressed at how well we kept everything running leading up to and even during the show."
Damien's work on the show has actually piqued his interest in doing stage managing.
"I enjoy working with others with things like this, so I may be looking into doing stage managing in my future."