Graduating high school is considered a rite of passage. For some, it is easy and expected. For others who must overcome substantial obstacles and adversity, it is transformational.
Alex Klayer, senior Culinary Arts student from Colerain High School, began her transformation with Butler Tech her sophomore year in the 10th Grade Academy. Alex will graduate this month as the first high school graduate in her family in more than four generations.
As a result of a congenital condition, Alex has undergone multiple orthopedic surgeries in her young life. Each was followed by demanding physical therapy and accompanying pain. Although she has often been physically sidelined by procedures and treatments, she refuses to allow her incapacities to become the focus of her everyday life.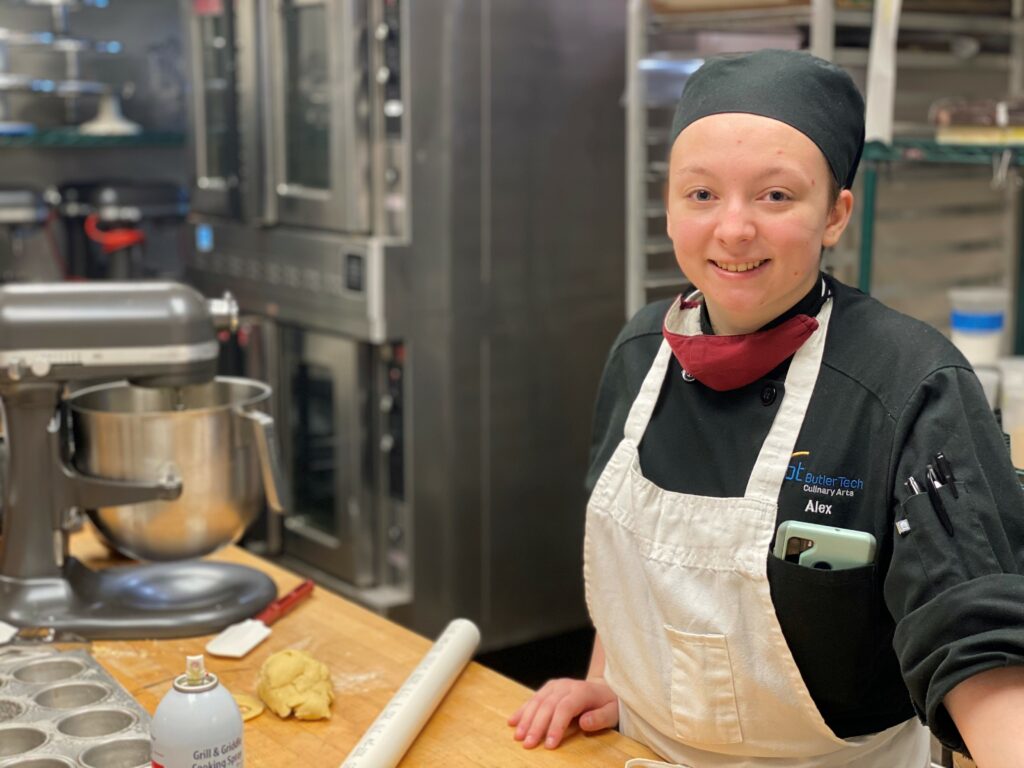 By the winter of her sophomore year in the 10th Grade Academy, Alex had begun to take an interest in the culinary program and even worked with Chef Simpson to solidify her first choice in the application process.
"I met Alex as a sophomore preparing for an interview with Chef Simpson, in hopes of being accepted into the Culinary Arts Program," shared Roslyn Ginter, District Nurse. "She was not satisfied with the clothes she had chosen for the interview; she wanted to look mature, and convincing, and professional."
Mrs. Ginter happened to have a business suit that had been donated to the school. Size two, and seemingly made just for Alex.
"I saw a transformed student with self-confidence, poise, and a determination to prove how much she wanted to be in the Culinary Program," Ginter remembers. "Yet, it was not the business suit that was the reflection of Alex's persona. Rather, it was the stamina and tenacity she has developed from lifelong circumstances causing mobility issues and pain."
Alex was of course accepted into the Culinary Arts program and the passion she has found in baking has allowed her to come out of her shell and drive her toward goals and dreams.
"I want to own my own LGBTQ Community Café," shared Alex. "I want to create a place where people can come and feel safe and I can share my passion with them through yummy food and good vibes."
Alex recognizes that the purpose she has found in culinary was a driving factor in helping her to persevere and overcome so much adversity. She says that beyond her academic achievements she has learned how to better communicate and always be ready and willing to try something new.
Alex is looking forward to walking across the stage at the Cintas Center and seeing her grandmother there to congratulate her.
"My mammaw is my biggest fan. She encourages me and my creativity. I am so appreciative of the support she has given me and as the first high school graduate in many years in my family, I hope I make her proud," shared Alex.