Senior Spotlight: Emiliana Bohrer
Veterinary Science
Class of 2022
Emiliana Bohrer is a senior at Butler Tech Natural Science Center and recent recipient of the American Heritage Girls "Stars and Stripes" honor. The American Heritage Girls, Inc. is a national character development organization for young women and the "Stars and Stripes" award is the highest recognition achieved with Emiliana being only the 89th recipient in the state of Ohio during the twenty-seven years of American Heritage Girls (AHG) existence.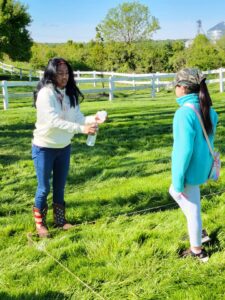 During her AHG career, Emiliana has earned a total of 103 merit badges, performed over 700 hours of community service, successfully planned and executed two multi-troop events, earned five (5) US Presidential Gold Awards for Volunteerism, earned a Silver Sunset Camp Sash Award in Leadership and has faithfully led and encouraged other younger girls in their endeavors and supported eight (8) other girls in their Stars & Stripes journeys prior, during, and after pursuing her own.
For her "Stars and Stripes" project, Emiliana designed, fundraised, planned, and supervised the building of an Outdoor Classroom Garden that was donated to Butler Tech Natural Science Center. Her project included the construction of six garden boxes made of cedar, two standing salad tower boxes made from repurposed pallets, 7.5' fencing, with a gated entrance around a 19' X 29' area able to deter deer, rabbits, and rodents. Her fundraising efforts afforded her to not only be able to complete her plan; but also, to add extra components such as water hoses and reel, compost bin, greenhouse, rain barrel, and garden tools. Her "Stars & Stripes" project logged a total of 490.75 hours, with 27 hours being supervisory over groups of youth volunteers.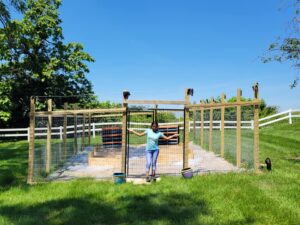 During her two-year project, Emiliana experienced the many up and down uncertainties of project management, which was full of scheduling difficulties and building material inflation caused by the COVID pandemic. She met the challenge of taking this large project successfully to its end.
Butler Tech Natural Science Center will utilize this garden as a classroom tool in their Environmental Science Classes, Student Agricultural Experience Projects, Future Farmer of America Projects, etc. Emiliana hopes those using this Outdoor Classroom Garden in the years to come will be encouraged to pursue a love of gardening while learning and feel the stress-relief and peace that she experiences at Butler Tech.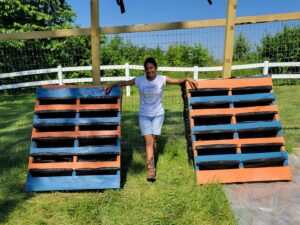 After Butler Tech, Emiliana plans to further her education in the study of Zoology and Animal Nutrition. She is a member of the National Honor Society, National Technical Honor Society, Lakota West Key Club, and Lakota West Bowling Team. She participated in Butler Tech Natural Science Center's New Campus Planning Committee and is a second-year, Butler Tech Student Ambassador. She is a Pet Care Specialist at Pet Palace in West Chester. In addition to these commitments, she plays the flute and is part of the Music Ministry Team at The Ark by the River Fellowship.