Minahil Haroon's resume reads, "Articulate and passionate student on a pathway leading to a future built around working to understand and address real-world hurdles."
Her resume documents a 4.0-grade point average, 32 credit hours of College Credit Plus courses, and a Yellow Belt in Lean Six Sigma. On paper she is impressive, in person, Minahil Haroon is remarkable.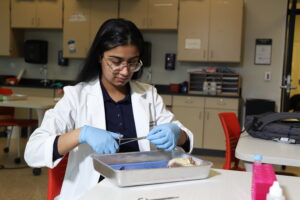 Minahil was born in Pakistan and moved with her family to the United States at age five. For several years, her family traveled back and forth to their homeland requiring Minahil to balance a new language and culture along with juggling the education system in America versus the system in Pakistan.
Following her 6th grade year in an all-girls school in Pakistan and in her own pursuit of a successful future, Minahil asked her family to allow her to continue her education in America in the seventh grade and beyond. This is where she was first exposed to Butler Tech Project Lead the Way (PTLW) courses at Lakota East and she began to fuel her passion for science.
"I always wanted to be a doctor," shared Minahil, "and when I started taking the PLTW courses I knew it was for me."
By her sophomore year visit to Butler Tech, Minahil realized that she could continue taking PLTW Biomedical Science at the Bioscience Center. However, at first, it wasn't an easy sell for her family.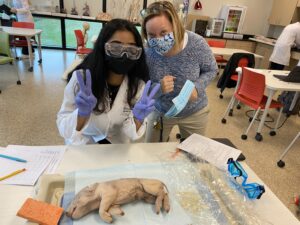 "My parents were hesitant at first," said Minahil. "They had limited knowledge of career education and weren't aware of the opportunities I would have. But as soon as they toured the school and met Dr. Cook and some of the teachers, they loved it! Now they want all my siblings to attend Butler Tech!"
Minahil jumped into her experience at the Bioscience Center and immediately sought ways to become more involved. She found herself volunteering at UC Health, West Chester Hospital, on the yearbook staff and Student Advisory Council, and promoting her love for Butler Tech as a Student Ambassador.
"Her zest for learning is infectious!" shared Becky Hickey, Healthcare Science instructor and one of Minahil's mentors.
Through her time at Butler Tech, however, two opportunities are clearly the most important to Minahil and her high school success.
"After my junior year," shared Minahil, "Mrs. von Haefen nominated me for United Planet's American-Iraqi Public Health Teams Addressing COVID-19 Project, which is a competitive program that exposes high school students from the U.S., the Middle East, and North Africa to unique Covid-19 public health challenges."
Through this opportunity, Minahil worked in small groups with students and professors at Boston University and Salahaddin University to develop educational and outreach programs and gained experience in multi-cultural groups and leadership skills.
"Minahil was a clear choice for this nomination because of her dedication and work ethic. She does whatever it takes to succeed and truly enjoys the challenge," said Lisa von Haefen, Project Lead the Way Biomedical Science instructor at the Butler Tech Bioscience Center.
Secondly, during her senior year, Minahil applied and was accepted as one of two chosen interns for AstraZeneca, a globally known pharmaceutical company located in Hamilton, Ohio where she gained skills in the chemistry and microbiology labs and a co-op in the Quality Control Department.
"I knew immediately through my time with AstraZeneca that I definitely wanted to pursue a degree in microbiology in addition to medical sciences with the ultimate goal of becoming a cardiothoracic surgeon," said Minahil.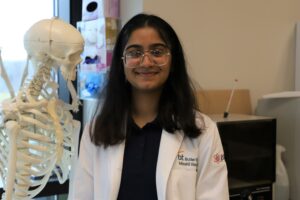 "As a teacher, you want to see your students move on and succeed. And with Minahil, I've truly seen a metamorphosis as she has grown confident and evolved into a young leader," said von Haefen. "She will go on to make an impact in this world."
Minahil will attend the University of Cincinnati in the fall as a double major and begin her college career as a sophomore by credits due to her accumulated college credits earned during high school.
"You have to go out of your way to find opportunities and make the most of it," Minahil finally shared. "You have to lose something to gain something and for me, that meant prioritizing my education and my future."